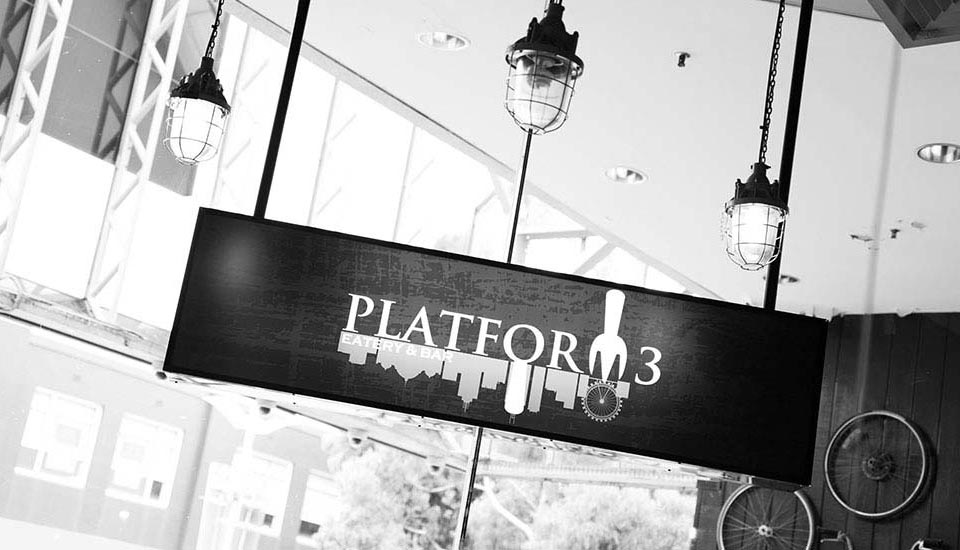 Platform 3 Eatery & Bar
Shop 48, 1 Main St (opposite Westpac Bank),
Box Hill
3128
Website:

Telephone:
Platform 3 Eatery & Bar in Box Hill has 14 weekly specials including their Monday Tapas and Drink Deal special and also a Ladies Night (Monday 5-7pm) on Monday's. Check out all their cheap deals below!
Positioned on a prime location on Main St (directly opposite Westpac Bank) which is also easily accessible from within Box Hill Central, we are the perfect chill out venue.

Offering a comfortable dining environment with dishes that are unique and exclusive, we would be the one and only eatery & bar offering modern Australian cuisine in Box Hill. Breakfast is served daily from 7am (8am weekends) until 3pm.

You'll find some interesting dishes such as our Black Benedict – Eggs Benedict on Charcoal Croissant and Purple Stack – hot cakes with berry compote, gingerbread crumbs, honeycomb and lavender ice cream.

Our lunch/dinner menu then kicks off from 11am until late. Be sure to try our traffic sliders as you will get chicken, fish and beef in different flavoured brioche buns. The fun then begins at 4pm where you can start to have our range of delicious tapas such as the Flying pigs and Crispy estuary prawns which make the perfect combination for your favourite drinks (tap beer, wine, cocktails).
Specials at Platform 3 Eatery & Bar
Monday

Tapas and Drink Deal

$10.00

$10 for your choice of Flying Pigs (Stuffed Chicken Wings) OR Kaki Fry (Bread Crumbed Oysters) OR Crispy Estuary Prawns OR Chicken Karaage (Japanese Fried Chicken) + Pot of Beer OR Small Coffee OR Bottled soft drinks

Updated 10 months ago

Monday

Ladies Night (Monday 5-7pm)

$20.00

Main Meal(Selected Mains only) & House Wine at $20 every Monday 5-7pm

Updated 10 months ago

Tuesday

Tapas and Drink Deal

$10.00

$10 for your choice of Flying Pigs (Stuffed Chicken Wings) OR Kaki Fry (Bread Crumbed Oysters) OR Crispy Estuary Prawns OR Chicken Karaage (Japanese Fried Chicken) + Pot of Beer OR Small Coffee OR Bottled soft drinks

Updated 10 months ago

Tuesday

Happy Hour (5-7pm)

$5.00

Selected Beers FROM $5 between 5-7pm

Updated 10 months ago

Wednesday

Tapas and Drink Deal

$10.00

$10 for your choice of Flying Pigs (Stuffed Chicken Wings) OR Kaki Fry (Bread Crumbed Oysters) OR Crispy Estuary Prawns OR Chicken Karaage (Japanese Fried Chicken) + Pot of Beer OR Small Coffee OR Bottled soft drinks

Updated 10 months ago

Wednesday

Happy Hour (5-7pm)

$5.00

Selected Beers FROM $5 between 5-7pm

Updated 10 months ago

Wednesday

Parma Wednesdays (11am-7pm)

$15.00

Chicken Parmigiana with Chips and Salad for $15 every Wednesdays!

Updated 10 months ago

Thursday

Tapas and Drink Deal

$10.00

$10 for your choice of Flying Pigs (Stuffed Chicken Wings) OR Kaki Fry (Bread Crumbed Oysters) OR Crispy Estuary Prawns OR Chicken Karaage (Japanese Fried Chicken) + Pot of Beer OR Small Coffee OR Bottled soft drinks

Updated 10 months ago

Friday

Tapas and Drink Deal

$10.00

$10 for your choice of Flying Pigs (Stuffed Chicken Wings) OR Kaki Fry (Bread Crumbed Oysters) OR Crispy Estuary Prawns OR Chicken Karaage (Japanese Fried Chicken) + Pot of Beer OR Small Coffee OR Bottled soft drinks

Updated 10 months ago

Friday

Happy Hour (5-7pm)

$5.00

Selected Beers FROM $5 between 5-7pm

Updated 10 months ago

Saturday

Tapas and Drink Deal

$10.00

$10 for your choice of Flying Pigs (Stuffed Chicken Wings) OR Kaki Fry (Bread Crumbed Oysters) OR Crispy Estuary Prawns OR Chicken Karaage (Japanese Fried Chicken) + Pot of Beer OR Small Coffee OR Bottled soft drinks

Updated 10 months ago

Saturday

Happy Hour (5-7pm)

$5.00

Selected Beers FROM $5 between 5-7pm

Updated 10 months ago

Sunday

Tapas and Drink Deal

$10.00

$10 for your choice of Flying Pigs (Stuffed Chicken Wings) OR Kaki Fry (Bread Crumbed Oysters) OR Crispy Estuary Prawns OR Chicken Karaage (Japanese Fried Chicken) + Pot of Beer OR Small Coffee OR Bottled soft drinks

Updated 10 months ago

Sunday

Happy Hour (5-7pm)

$5.00

Selected Beers FROM $5 between 5-7pm

Updated 10 months ago
Other specials nearby today
comments powered by

Disqus