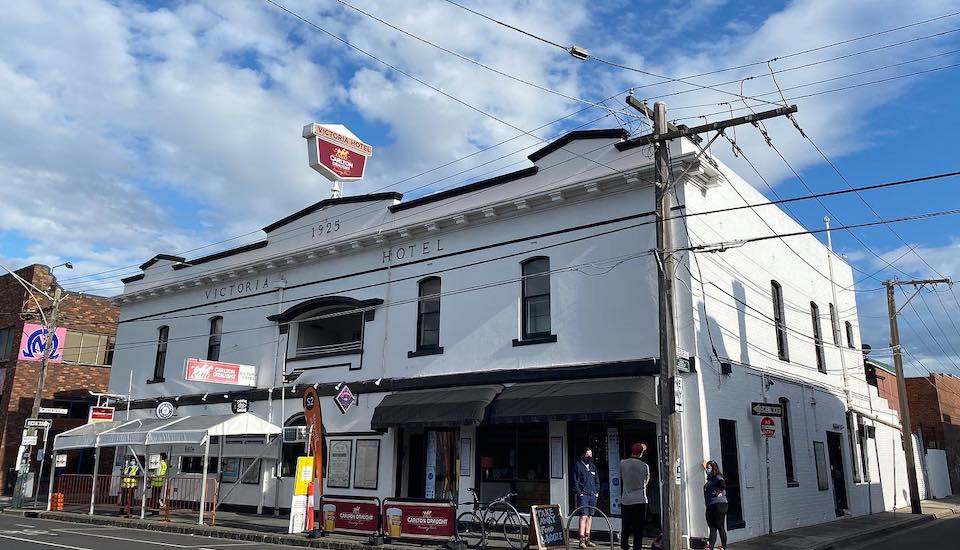 Victoria Hotel
380 Victoria St,
Brunswick
3056
Website:

Telephone:
Victoria Hotel in Brunswick has 15 weekly specials including their Monday Steak Night special and also a Happy Hour! on Monday's. Check out all their cheap deals below!
The Victoria Hotel, located at 380 Victoria St in Brunswick, is the grey watering hole situated at the north end of Brunswick train station.

It's a genuine local that will feed you, give you good beer, let you relax in the beer garden and offer up some pretty good bands for you to watch as well.

Open everyday from 3pm Monday to Wednesday and midday until late for the rest of the week, the very friendly publican Reggie Campbell, and his staff will happily tend to your thirsty and hungry needs, whilst also informing you about all the rad bands that are coming up on Friday and Saturday nights in the main room, as well as late afternoon weekend gigs in the beer garden during summer, and indoors for winter. Occasionally, we do gigs on other days & nights as well.
Specials at Victoria Hotel
Monday

Steak Night

$18.00

$18 Porterhouse Steak with pot or a glass of wine. FREE pool!

Updated 10 months ago

Monday

Happy Hour!

Various

Every week day from 5 - 7pm: - $3.50 POTS - $5 BASIC SPIRITS - $5 HOUSE WINE

Updated 10 months ago

Monday

$15 Lunch Specials

$15.00

Every week day from 12-3pm: Comes with free: - Pot of beer - Glass of house wine - Soft drink

Updated 10 months ago

Tuesday

Burgers & Pot or Wine

$18.00

$18 Burgers with a pot or a glass of wine

Updated 10 months ago

Tuesday

Happy Hour!

Various

Every week day from 5 - 7pm: - $3.50 POTS - $5 BASIC SPIRITS - $5 HOUSE WINE

Updated 10 months ago

Tuesday

$15 Lunch Specials

$15.00

Every week day from 12-3pm: Comes with free: - Pot of beer - Glass of house wine - Soft drink

Updated 10 months ago

Wednesday

Free Trivia

FREE

Free trivia from 7:30pm

Updated 10 months ago

Wednesday

Fish n Chips & pot or wine

$18.00

$18 Fish & Chips & Pot or Wine Plus Free Trivia from 7:30pm!

Updated 10 months ago

Wednesday

Happy Hour!

Various

Every week day from 5 - 7pm: - $3.50 POTS - $5 BASIC SPIRITS - $5 HOUSE WINE

Updated 10 months ago

Wednesday

$15 Lunch Specials

$15.00

Every week day from 12-3pm: Comes with free: - Pot of beer - Glass of house wine - Soft drink

Updated 10 months ago

Thursday

Parma and Pot

$18.00

$18 Parma and Pot

Updated 10 months ago

Thursday

Happy Hour!

Various

Every week day from 5 - 7pm: - $3.50 POTS - $5 BASIC SPIRITS - $5 HOUSE WINE

Updated 10 months ago

Thursday

$15 Lunch Specials

$15.00

Every week day from 12-3pm: Comes with free: - Pot of beer - Glass of house wine - Soft drink

Updated 10 months ago

Friday

Happy Hour!

Various

Every week day from 5 - 7pm: - $3.50 POTS - $5 BASIC SPIRITS - $5 HOUSE WINE

Updated 10 months ago

Friday

$15 Lunch Specials

$15.00

Every week day from 12-3pm: Comes with free: - Pot of beer - Glass of house wine - Soft drink

Updated 10 months ago
Other specials nearby today
comments powered by

Disqus