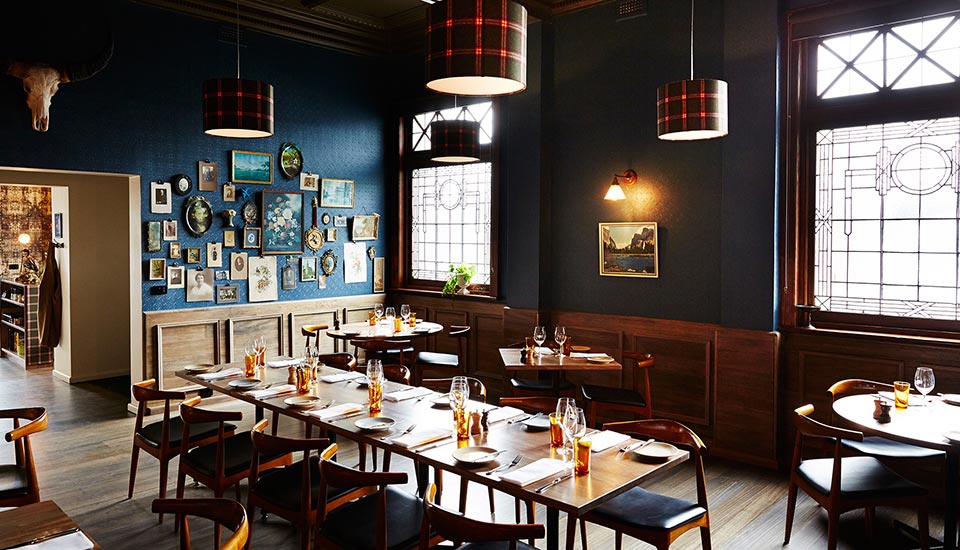 Town Hall Hotel
166 Johnston Street,
Fitzroy
3065
Website:

Telephone:
Town Hall Hotel in Fitzroy has 7 weekly specials including their Monday Happy Hour special and also a Happy Hour on Tuesday's. Check out all their cheap deals below!
Fresh new life has been pumped into this classic public house by chef Sean Donovan and his team. A series of cosy and intimate beautifully curated spaces offering a wide range of drinking and dining experiences have been created. The venue offers four distinct areas, a traditional yet stylish public bar complete with vintage tiling, wood panelling and a snug offering premium craft beverages and casual dining spaces. The bistro dining room has a hunting lodge feel with rich tartans, textured wallpaper and ambient lighting alongside a juxtaposing light, green and lush conservatory feel dining area.

Exclusive private dining is offered in the old wine cellar and is perfect for a range of special occasions from intimate wedding parties to corporate events. The upstairs level has been restored to its former glory to offer a flexible and accommodating space. This gorgeous area will cater to dining, functions, bar and lounge areas and access to the balcony which overlooks Johnson Street.
Specials at Town Hall Hotel
Monday

Happy Hour

Various

3pm - 6pm every day: $4 pots, $6 schooners and $8 pints. Also 1/2 Dozen freshly shucked oysters with a glass of house wine or a pot of draught beer 3pm to 6pm everyday – $15

Updated 9 months ago

Tuesday

Happy Hour

Various

3pm - 6pm every day: $4 pots, $6 schooners and $8 pints. Also 1/2 Dozen freshly shucked oysters with a glass of house wine or a pot of draught beer 3pm to 6pm everyday – $15

Updated 9 months ago

Wednesday

Happy Hour

Various

3pm - 6pm every day: $4 pots, $6 schooners and $8 pints. Also 1/2 Dozen freshly shucked oysters with a glass of house wine or a pot of draught beer 3pm to 6pm everyday – $15

Updated 9 months ago

Thursday

Happy Hour

Various

3pm - 6pm every day: $4 pots, $6 schooners and $8 pints. Also 1/2 Dozen freshly shucked oysters with a glass of house wine or a pot of draught beer 3pm to 6pm everyday – $15

Updated 9 months ago

Friday

Happy Hour

Various

3pm - 6pm every day: $4 pots, $6 schooners and $8 pints. Also 1/2 Dozen freshly shucked oysters with a glass of house wine or a pot of draught beer 3pm to 6pm everyday – $15

Updated 9 months ago

Saturday

Happy Hour

Various

3pm - 6pm every day: $4 pots, $6 schooners and $8 pints. Also 1/2 Dozen freshly shucked oysters with a glass of house wine or a pot of draught beer 3pm to 6pm everyday – $15

Updated 9 months ago

Sunday

Happy Hour

Various

3pm - 6pm every day: $4 pots, $6 schooners and $8 pints. Also 1/2 Dozen freshly shucked oysters with a glass of house wine or a pot of draught beer 3pm to 6pm everyday – $15

Updated 9 months ago
Other specials nearby today
comments powered by

Disqus