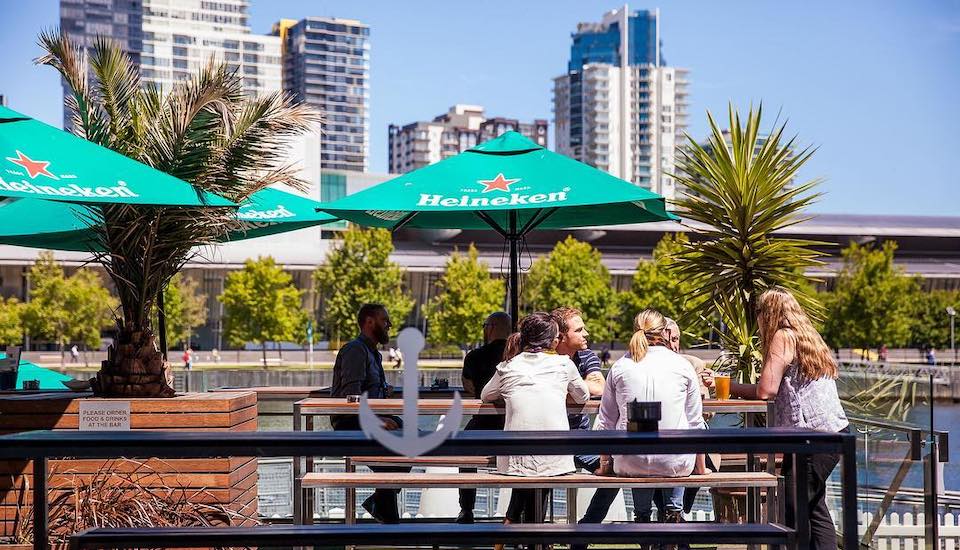 The Wharf Hotel
18-38 Siddeley Street,
Melbourne
3000
Website:

Telephone:
The Wharf Hotel in Melbourne has 14 weekly specials including their Monday Express Lunch special and also a Happy Hour on Monday's. Check out all their cheap deals below!
Perched on the banks of the Yarra River and only minutes walk from the CBD, The Wharf Hotel is superbly located in Melbourne's most recently developed waterfront precinct.

The setting for drinking and dining is like none other along the river. With premium areas both indoors and outdoors, The Wharf Hotel enjoys the unique combination of a friendly local pub with stunning city views and waterfront ambience.

The architecture and interior draws influence from the location, seamlessly incorporating features from the old wharf in the contemporary design. This part of the city and the Yarra River is fast becoming one of Melbourne's premiere waterfront locations.
Specials at The Wharf Hotel
Monday

Express Lunch

$15.00

Weekday lunch 12pm - 3pm. Chef's weekly specials! Includes a glass of selected wine, pot of beer or soft drink.

Updated 9 months ago

Monday

Happy Hour

Various

5pm - 7pm: $10 Cocktails. $7 selected beers. $7 glass of selected wines Menu changes regularly!

Updated 9 months ago

Tuesday

Ultimate Burger Night

$20.00

Choose one of two burgers, made by two different chefs. Our chefs go head to head - whichever burger sells more is the champ, and goes back on the menu. ? A little friendly competition never hurt nobody! Pair yours with a selected beer or wine for just $25. Available from 5pm Tuesdays.

Updated 8 months ago

Tuesday

Express Lunch

$15.00

Weekday lunch 12pm - 3pm. Chef's weekly specials! Includes a glass of selected wine, pot of beer or soft drink.

Updated 9 months ago

Tuesday

Happy Hour

Various

5pm - 7pm: $10 Cocktails. $7 selected beers. $7 glass of selected wines Menu changes regularly!

Updated 9 months ago

Wednesday

Wing it Wednesday

$20.00

Just Wing It. Chicken, life, everything. Trivia Night just got epic - $20 for 1/2 KG of wings, along with a schooner of Furphy or glass of House wine. The best bit? It's your choice of sexy sauces. Available from 5pm Wednesdays

Updated 8 months ago

Wednesday

Trivia

FREE

Join us for Quizmeisters Comedy Trivia from 6.30pm $20 1 kilo of wings, plus a Schooner of Furphy or glass of wine. Available from 5pm

Updated 9 months ago

Wednesday

Express Lunch

$15.00

Weekday lunch 12pm - 3pm. Chef's weekly specials! Includes a glass of selected wine, pot of beer or soft drink.

Updated 9 months ago

Wednesday

Happy Hour

Various

5pm - 7pm: $10 Cocktails. $7 selected beers. $7 glass of selected wines Menu changes regularly!

Updated 9 months ago

Thursday

Take a Bao - DIY Bao

$7.00

$7 for 1 // 3 for $15 from 5pm. Never get bored – our Bao changes weekly, with your choice of 2 fillings. Available from 5pm Thursdays.

Updated 9 months ago

Thursday

Express Lunch

$15.00

Weekday lunch 12pm - 3pm. Chef's weekly specials! Includes a glass of selected wine, pot of beer or soft drink.

Updated 9 months ago

Thursday

Happy Hour

Various

5pm - 7pm: $10 Cocktails. $7 selected beers. $7 glass of selected wines Menu changes regularly!

Updated 9 months ago

Friday

Express Lunch

$15.00

Weekday lunch 12pm - 3pm. Chef's weekly specials! Includes a glass of selected wine, pot of beer or soft drink.

Updated 9 months ago

Friday

Happy Hour

Various

5pm - 7pm: $10 Cocktails. $7 selected beers. $7 glass of selected wines Menu changes regularly!

Updated 9 months ago
Other specials nearby today
comments powered by

Disqus