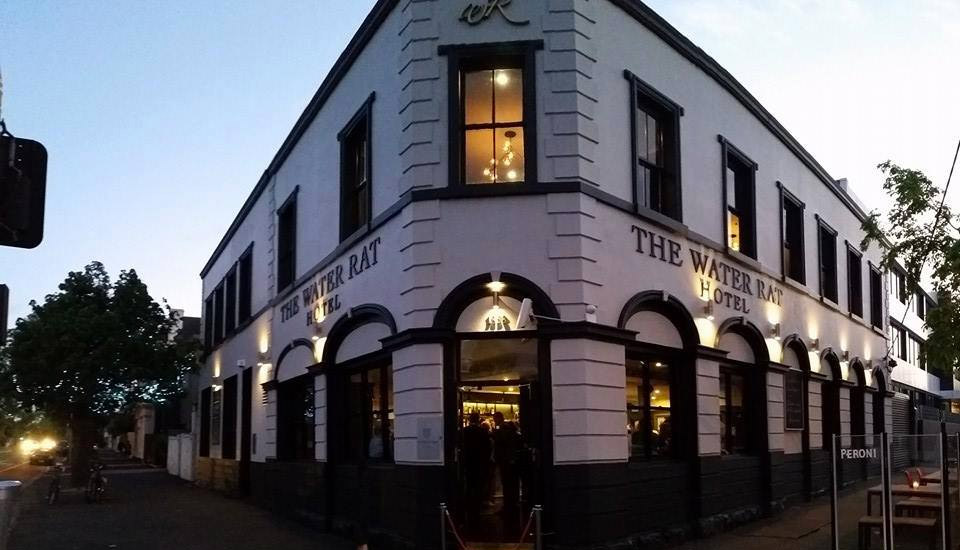 The Water Rat Hotel
256 Moray St,
South Melbourne
3205
Website:

Telephone:
The Water Rat Hotel in South Melbourne has 10 weekly specials including their Monday Happy Hour special and also a Happy Hour on Tuesday's. Check out all their cheap deals below!
The Water Rat Hotel is located on the corner of Park & Moray Streets in South Melbourne and is open 7 days a week for both lunch and dinner.
We have developed a menu that celebrates your favourite pub classics, as well as innovative and tasty entree dishes, complemented by quality wines, an array of boutique and local beers and a vast selection of spirits and cocktails.
Our first floor function facilities can cater for groups up to 300 for meetings, seminars and product launches as well as parties and celebrations. A more recent addition to the first floor is a brand new outdoor deck which is available for public and private function use.
Our highly experienced function team provides exceptional service, state of the art equipment and quality catering and menu options.
Our flexibility and accommodating nature allow your function to be catered to your specific needs.
Let the team at The Water Rat Hotel make your function a success.

In November, The Water Rat Hotel won "Best Restaurant (Metropolitan)" Victoria- Award. Thank you to everyone for their support!
Specials at The Water Rat Hotel
Monday

Happy Hour

$5.00

5-7pm $5 schooners and $5 house wines

Updated 10 months ago

Tuesday

Happy Hour

$5.00

5-7pm $5 schooners and $5 house wines

Updated 10 months ago

Tuesday

Parma pot all day

Various

Parma & a pot $20 all day

Updated 10 months ago

Wednesday

Steak and vino

$20.00

250 gm porterhouse and a glass of wine $20

Updated 10 months ago

Wednesday

Happy Hour

$5.00

5-7pm $5 schooners and $5 house wines

Updated 10 months ago

Thursday

Happy Hour

$5.00

5-7pm $5 schooners and $5 house wines

Updated 10 months ago

Friday

Happy Hour

$5.00

5-7pm $5 schooners and $5 house wines

Updated 10 months ago

Friday

Cocktail happy hour

$12.00

5-7pm Espresso martinis and Mojitos $12

Updated 11 months ago

Saturday

Happy Hour

$5.00

5-7pm $5 schooners and $5 house wines

Updated 10 months ago

Sunday

Happy Hour

$5.00

5-7pm $5 schooners and $5 house wines

Updated 10 months ago
Other specials nearby today
comments powered by

Disqus