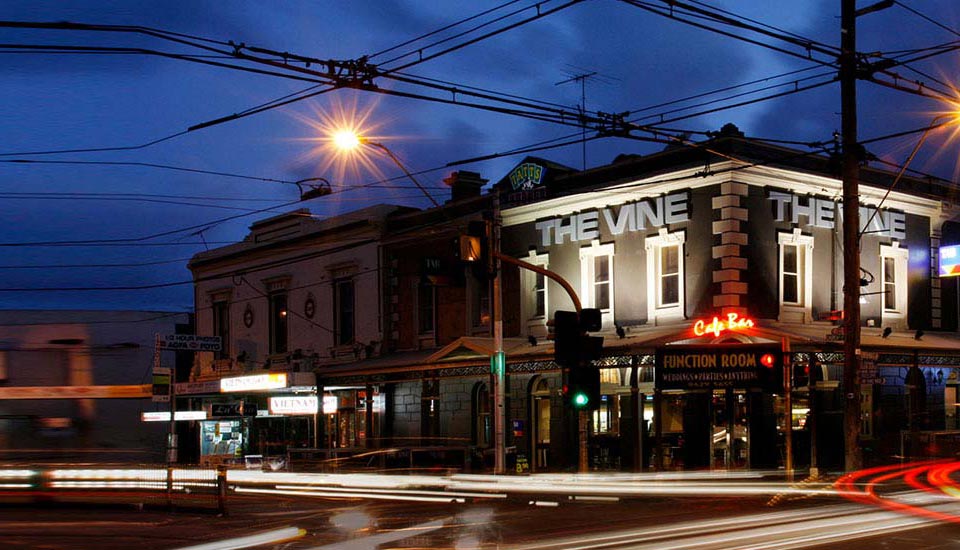 The Vine Hotel
254 Bridge Road,
Richmond
3121
Website:

Telephone:
The Vine Hotel in Richmond has 7 weekly specials including their Monday Curry Night special and also a Tradie Tuesday on Tuesday's. Check out all their cheap deals below!
THE VINE Hotel is located in the heart of Richmond, on the corner of Bridge road and Church street. Surrounded by shops and public transport, and only minutes away from the CBD, it is a great place to stop in on the way home from work, on the way to the Footy or just to sit outside in the sun and enjoy a nice cold beer.

A Local Icon
At THE VINE Hotel, we have a range of things to take your fancy. From our private function room, to our newly refurbished TAB, there is something here for everyone.
Specials at The Vine Hotel
Monday

Curry Night

$15.00

House made curry of the week served with rice and pappadum with your choice of house wine or pot of Carlton from 5-9pm

Updated 10 months ago

Tuesday

Tradie Tuesday

$15.00

Pepperoni Pizza or Beef Burger with a pot of Calton 12-3pm and 5-9pm

Updated 10 months ago

Wednesday

Pie N Pot Night

$20.00

Beef & Guiness pie served with mash and veg and a pot of Carlton

Updated 10 months ago

Thursday

Parma & Pot

$20.00

Parma & Pot - traditional, Mexican, Aussie or Hawaiian served with chips & a pot of Carlton from 5-9pm

Updated 10 months ago

Friday

$5 Friday's

$5.00

$5 Fridays: Pizzas, schooners, house wine, house spirit all $5

Updated 10 months ago

Saturday

Steak and Schooner

$20.00

350gm T-Bone steak, cooked to your liking served with chips, salad & gravy from 5-9pm

Updated 11 months ago

Sunday

Sunday Roast

$15.00

Roast of the week served with Vegetables & Gravy from 12-3pm and 5-9pm

Updated 10 months ago
Other specials nearby today
comments powered by

Disqus