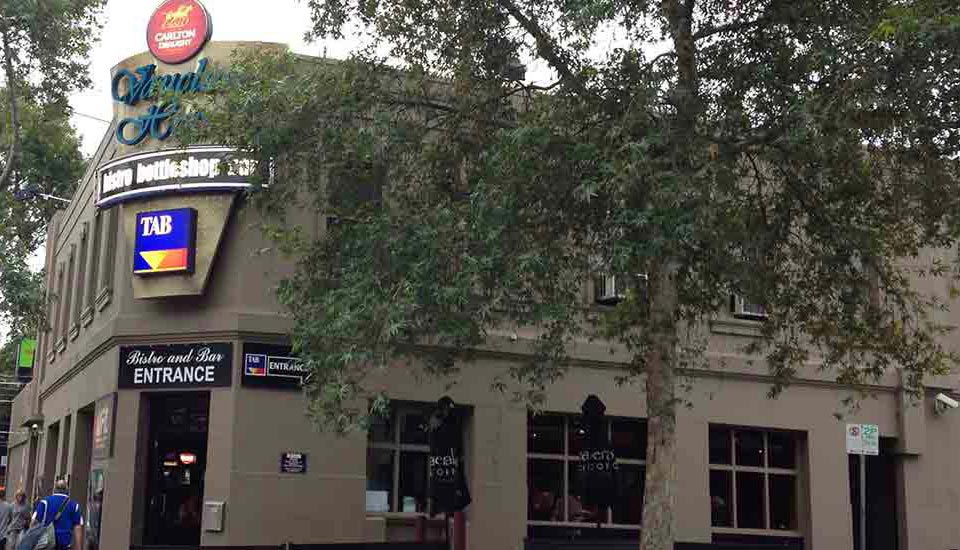 The Vaucluse Hotel
157 Swan Street,
Richmond
3121
Website:

Telephone:
The Vaucluse Hotel in Richmond has 18 weekly specials including their Monday Midweek Lunch special and also a Happy Hour Every Day on Monday's. Check out all their cheap deals below!
The Vaucluse Hotel in Richmond offers six weekly specials, including their Mad Monday $15 main meal special, a Wednesday $15 steak special with Trivia at 7.30pm and a happy hour every day from 4pm-6pm which includes $7 pints of Carlton, $6 house spirits and $5 house wines.

The Vaucluse Hotel located at 157 Swan St in the heart of busy Richmond is a spacious, modern pub with large plasma TVs, betting facilities and hearty bistro meals.

Our trading hours are Monday to Thursday (11.30am-3pm/5.30pm-9pm) and Friday to Saturday (11.30am-9pm) with the bar staying open late offering a diverse restaurant/bar experience.
Specials at The Vaucluse Hotel
Monday

Midweek Lunch

$13.00

$13 Lunch Specials from 12pm-3pm includes a Pot of Carlton or House Wine

Updated 11 months ago

Monday

Happy Hour Every Day

Various

Happy Hour from 4pm-6pm, $7 pints of Carlton, $6 house spirits and $5 house wines

Updated 11 months ago

Monday

Mad Monday

$15.00

$15 Main Meals (excludes steaks)

Updated 11 months ago

Tuesday

Ruby Murray Tuesdays

$15.00

Ruby Murray Tuesdays: $15 Curry & Pot of Carlton or House wine

Updated 1 year ago - may be way outdated

Tuesday

Midweek Lunch

$13.00

$13 Lunch Specials from 12pm-3pm includes a Pot of Carlton or House Wine

Updated 11 months ago

Tuesday

Happy Hour Every Day

Various

Happy Hour from 4pm-6pm, $7 pints of Carlton, $6 house spirits and $5 house wines

Updated 11 months ago

Wednesday

Meat Market and Trivia

$15.00

Meat Market Wednesdays: $15 300g Porterhouse Steak + Trivia at 7.30pm with prizes for 1st, 2nd, 3rd and 2nd last with an incremental jackpot

Updated 1 year ago - may be way outdated

Wednesday

Midweek Lunch

$13.00

$13 Lunch Specials from 12pm-3pm includes a Pot of Carlton or House Wine

Updated 11 months ago

Wednesday

Happy Hour Every Day

Various

Happy Hour from 4pm-6pm, $7 pints of Carlton, $6 house spirits and $5 house wines

Updated 11 months ago

Thursday

Parmafied Thursdays

$15.00

$15 Pot & Parma

Updated 1 year ago - may be way outdated

Thursday

Midweek Lunch

$13.00

$13 Lunch Specials from 12pm-3pm includes a Pot of Carlton or House Wine

Updated 11 months ago

Thursday

Happy Hour Every Day

Various

Happy Hour from 4pm-6pm, $7 pints of Carlton, $6 house spirits and $5 house wines

Updated 11 months ago

Friday

Midweek Lunch

$13.00

$13 Lunch Specials from 12pm-3pm includes a Pot of Carlton or House Wine

Updated 11 months ago

Friday

Happy Hour Every Day

Various

Happy Hour from 4pm-6pm, $7 pints of Carlton, $6 house spirits and $5 house wines

Updated 11 months ago

Saturday

Happy Hour Every Day

Various

Happy Hour from 4pm-6pm, $7 pints of Carlton, $6 house spirits and $5 house wines

Updated 11 months ago

Saturday

Dollar Wings

$1.00

Saturday Sweetness: $1 wings all day

Updated 11 months ago

Sunday

Happy Hour Every Day

Various

Happy Hour from 4pm-6pm, $7 pints of Carlton, $6 house spirits and $5 house wines

Updated 11 months ago

Sunday

Sunday Roast

$16.00

Sunday Roast: $16 Roast with all the trimmings

Updated 11 months ago
Other specials nearby today
comments powered by

Disqus