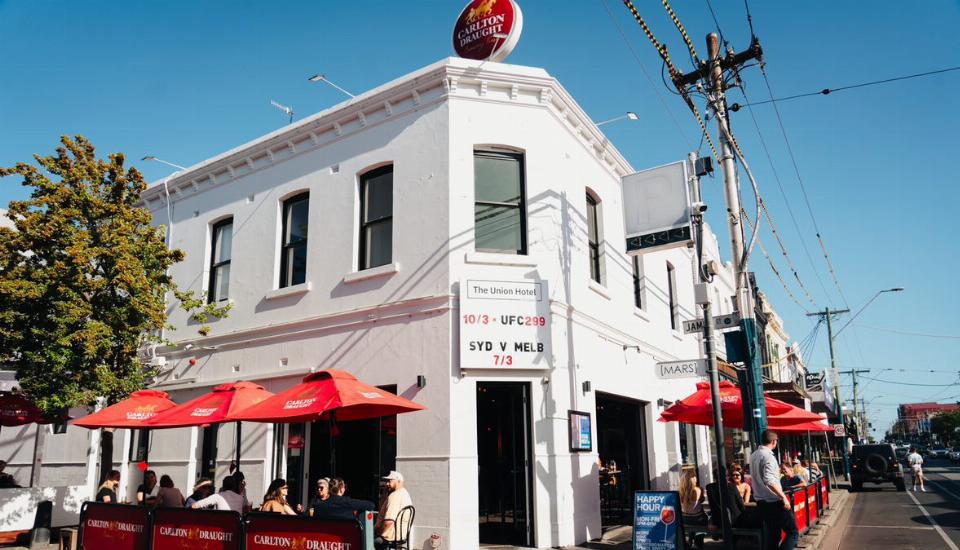 The Union Hotel
90 Chapel Street,
Windsor
3181
Website:

Telephone:
The Union Hotel in Windsor has 4 weekly specials including their Monday Rump Steak special and also a 5 types of Parmas on Tuesday's. Check out all their cheap deals below!
The Union Hotel located in Windsor has evolved into one of Melbourne's most popular culinary and social areas on iconic Chapel Street.

The Union Hotel's space offers a large amount of variety weather it may be for a casual drink, simple yet fantastic dining, private or casual function's to suit any occasion, major live sporting events across all codes or the live local music played every weekend. The Union Hotel is Chapel Streets original destination to indulge in such activities.

The Union Hotel prides itself on doing the simple very well. We offer great value and service to our customers and invite all to come by and have a good time.
Specials at The Union Hotel
Monday

Rump Steak

$15.00

250g Eye of Rump Steak Night $15 – served with chips & garden salad. From 5:30pm every week.

Updated 10 months ago

Tuesday

5 types of Parmas

$14.00

- Traditional Chicken Parma – Tomato Napoli, Ham, Mozzarella -'The Union' Chicken Parma – Bacon, Salami, Ham, BBQ sauce, Mozzerella -Chicken Schnitzel – House made & fresh with Lemon - 'The Mexican' Chicken Parma - Tomato Napoli, Ham, Mozzarella, Hot Sauce & Jalapenos - 'Mushroom' Chicken Parma - Tomato Napoli, Ham, Mozzarella & Creamy Mushroom Jus Served with chips & garden salad

Updated 11 months ago

Wednesday

Porterhouse Steak

$16.00

300g Porterhouse Steak Night $16 - served with chips & garden salad.

Updated 11 months ago

Thursday

Pasta Night

$14.00

Lamb Shoulder Ragu Pappardelle for only $14

Updated 11 months ago
Other specials nearby today
comments powered by

Disqus