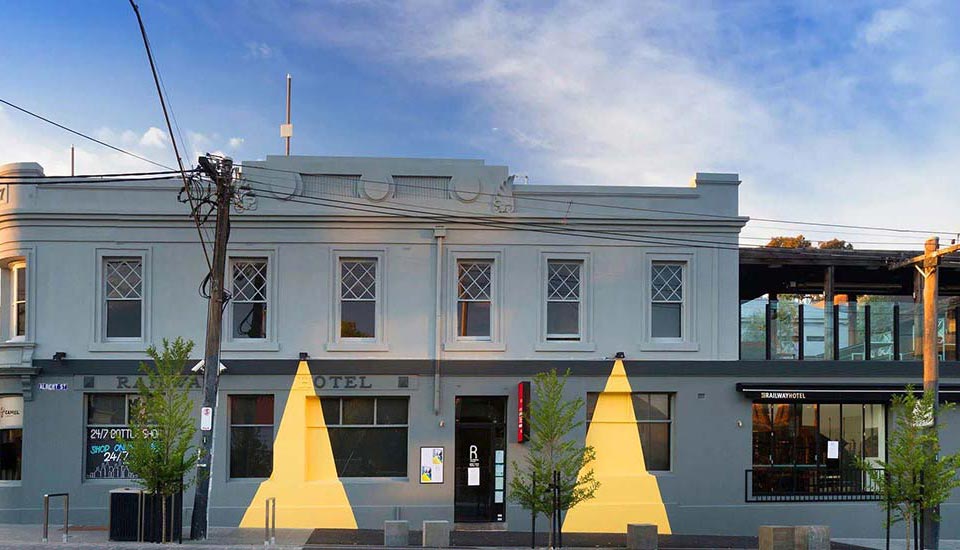 The Railway Hotel
29 Chapel Street,
Windsor
3181
Website:

Telephone:
The Railway Hotel in Windsor has 5 weekly specials including their Monday Track Work Lunch: main + side + drink special and also a Track Work Lunch: main + side + drink on Tuesday's. Check out all their cheap deals below!
Come dine in style at our award winning restaurant.

We were awarded a Chef's Hat by Australian Good Food Guide for 2015 after only 3 months trading and again in 2016.

In August we were awarded a Wine Glass by Gourmet Traveller for our wine list in Highline which features wines only from Australia and New Zealand.

In October we appeared in The Age Good Food Guide where we were recognized as having:

The 9th best dish in Melbourne for 2016
The best dessert in Melbourne
One of the Top 10 degustations in Melbourne for 2016
?
In November 2015 and again in 2016 were were awarded the Australian Hotels Association Victoria Best Pub Restaurant.
?
In September 2016 we were awarded a prestigious Chefs Hat by The Age Good Food Guide for 2017.
?
Our Head Chef is Simon Tarlington formerly of Quay in Sydney was one of the finalists in the 2014 Young Chef of the Year competition.
?
"My food philosophy is based around fresh flavours, seasonal produce, sustainable practices so future generations can enjoy what I have. I believe that the food should speak for itself. I believe by using seasonal and local produce that I can create dishes that can help reveal to others the exciting Australian produce that we have available. I like to think outside the box. Nothing should go to waste and I like turning peoples perception of something that may seem inedible into something wonderful."

"I believe in supporting local suppliers and Australian farmers not just for sustainability and the economy but because I want the world to recognise Australian produce and what we have to offer."

"I have worked in a lot of classical kitchens so I think it is important to really respect the basics of cookery. Once you have perfected the basics I think it is then that you can begin to develop your own style of cookery. I am fortunate to have worked in some of the worlds finest restaurants with strong mentors and supporters around me. They have given me the opportunity to develop correct methods and techniques and taught me good values, a strong work ethic and a commitment to my career. My greatest strength would be that I take great pride in my work. Everything that I put on the plate is well thought out with much care and effort involved."
Specials at The Railway Hotel
Monday

Track Work Lunch: main + side + drink

$18.00

Choose from: -Roasted Chicken Breast - House Made sausages - Pan Fried Barramundi fillet - Slow cooked lamb shoulder - Slow Braised beef And a choice of side: - Rosemary Kipfler potatoes - Honey dressed leaves, ricotta, croutons - Tomato soft cheese salad - Green bean, smoked tomato, white anchovy, almonds - Potato salad, hens egg - Baked rice with peas With a choice of beverage: - A schooner of Boags Draught - Glass of House Red or white wine

Updated 10 months ago

Tuesday

Track Work Lunch: main + side + drink

$18.00

Choose from: -Roasted Chicken Breast - House Made sausages - Pan Fried Barramundi fillet - Slow cooked lamb shoulder - Slow Braised beef And a choice of side: - Rosemary Kipfler potatoes - Honey dressed leaves, ricotta, croutons - Tomato soft cheese salad - Green bean, smoked tomato, white anchovy, almonds - Potato salad, hens egg - Baked rice with peas With a choice of beverage: - A schooner of Boags Draught - Glass of House Red or white wine

Updated 10 months ago

Wednesday

Track Work Lunch: main + side + drink

$18.00

Choose from: -Roasted Chicken Breast - House Made sausages - Pan Fried Barramundi fillet - Slow cooked lamb shoulder - Slow Braised beef And a choice of side: - Rosemary Kipfler potatoes - Honey dressed leaves, ricotta, croutons - Tomato soft cheese salad - Green bean, smoked tomato, white anchovy, almonds - Potato salad, hens egg - Baked rice with peas With a choice of beverage: - A schooner of Boags Draught - Glass of House Red or white wine

Updated 10 months ago

Thursday

Track Work Lunch: main + side + drink

$18.00

Choose from: -Roasted Chicken Breast - House Made sausages - Pan Fried Barramundi fillet - Slow cooked lamb shoulder - Slow Braised beef And a choice of side: - Rosemary Kipfler potatoes - Honey dressed leaves, ricotta, croutons - Tomato soft cheese salad - Green bean, smoked tomato, white anchovy, almonds - Potato salad, hens egg - Baked rice with peas With a choice of beverage: - A schooner of Boags Draught - Glass of House Red or white wine

Updated 10 months ago

Friday

Track Work Lunch: main + side + drink

$18.00

Choose from: -Roasted Chicken Breast - House Made sausages - Pan Fried Barramundi fillet - Slow cooked lamb shoulder - Slow Braised beef And a choice of side: - Rosemary Kipfler potatoes - Honey dressed leaves, ricotta, croutons - Tomato soft cheese salad - Green bean, smoked tomato, white anchovy, almonds - Potato salad, hens egg - Baked rice with peas With a choice of beverage: - A schooner of Boags Draught - Glass of House Red or white wine

Updated 10 months ago
Other specials nearby today
comments powered by

Disqus