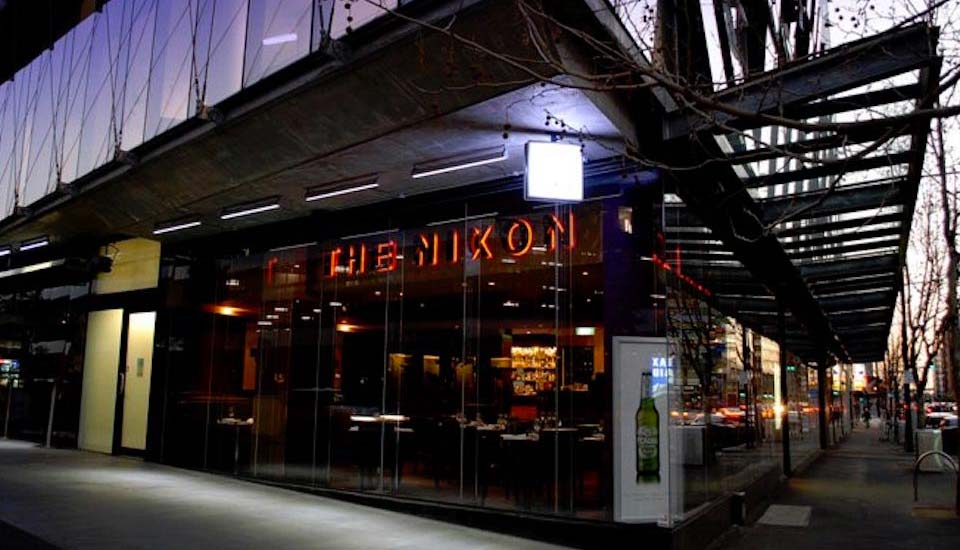 The Nixon Hotel
757 Bourke Street,
Docklands
3008
Website:

Telephone:
The Nixon Hotel in Docklands has 10 weekly specials including their Monday Steak Night special and also a Happy Hour on Monday's. Check out all their cheap deals below!
The Nixon Hotel is a pub of presidential proportions nestled in Melbourne's Docklands, sitting near the (water) gate to the Yarra River. Located opposite gate 3 of Ethihad Stadium we are the perfect spot for fueling up before all sporting and musical events whether you support AFL, Soccer, Rugby Union, Rugby League, Cricket, are a music enthusiast or simply want to escape the office for little while, our friendly staff are here to welcome you.

Our warm, wood paneled bar is a mainstay for beer, wine and spirit drinkers alike – with 12 superbly ice cold draught beers on tap and close to 50 hand tasted and selected local and imported bottled beers and ciders. As well as in excess of 100 varieties of spirits, liqueurs and aperitifs to choose from our unparalleled selections are sure to not only impress but cater to all tastes and desires. For the sommelier within all of us we have an impressive range of red wines, white wines, sparkling and traditional champagne's on offer to with over 50 varieties from various well known and boutique wine regions across Australia and New Zealand our selection is adaptable to all situations.

The Nixon Hotel offers a casual bistro for a quick bite to eat before catching a thrilling footy match, a casual work luncheon, or having a punt with friends; Also on offer is a more secluded dining area to cater for a different mood perfect for a long lunch, catching up with family and friends or a celebratory dinner.

On our Modern Australian gastro pub menu you can expect a fine selection of internationally influenced delicacies such as spiced lamb rump, chicken scaloppini and duck risotto.

Whatever the season you can be guaranteed our signature mammoth chicken parmigiana, with our special blend of cheeses atop triple smoked ham and home made napoli sauce or our "Nixon" burger, an impressively feisty stack of grilled prime angus beef, bacon, egg, beetroot, lettuce, tomato, caramalised onion and cheese are guaranteed to please.

The Nixon also offered you our facilities for your next work function family gathering or holiday celebration, our inviting and warm décor is designed for our patrons to enjoy a relaxing a memorable night out. We have numerous functions packages available upon request to suit your event needs.
Specials at The Nixon Hotel
Monday

Steak Night

$15.00

$15 Sirloin or Rump Steak with Chips, Salad & House Beverage Sauce: Mushroom, Peppercorn or Garlic Butter * Not available on Etihad event days

Updated 7 months ago

Monday

Happy Hour

Various

Monday to Thursday: 5pm - 7pm & Friday: 5 - 9pm $6 Carlton Pints; $5 House Wines; $6 Spirits * Not available on Etihad event days

Updated 7 months ago

Tuesday

Parma Night

$15.00

$15 Parma with Chips, Salad & House Beverage Choose: Nachos, Mexican, Aussie or Traditional * Not available on Etihad event days

Updated 7 months ago

Tuesday

Happy Hour

Various

Monday to Thursday: 5pm - 7pm & Friday: 5 - 9pm $6 Carlton Pints; $5 House Wines; $6 Spirits * Not available on Etihad event days

Updated 7 months ago

Wednesday

Burger

$15.00

$15 Burgers your choice of Angus Beef Pattie, Braised Pork Shoulder or Southern Style Buttermilk Chicken. Served with Rosemary Salted Chips. * Not available Etihad Event days

Updated 7 months ago

Wednesday

Happy Hour

Various

Monday to Thursday: 5pm - 7pm & Friday: 5 - 9pm $6 Carlton Pints; $5 House Wines; $6 Spirits * Not available on Etihad event days

Updated 7 months ago

Thursday

Happy Hour

Various

Monday to Thursday: 5pm - 7pm & Friday: 5 - 9pm $6 Carlton Pints; $5 House Wines; $6 Spirits * Not available on Etihad event days

Updated 7 months ago

Thursday

Trivia Night

FREE

Weekly Trivia every Thursday Night from 6.30pm. If you think you have what it takes, try your hand at Nixon Trivia. – $20 steak or parma with house drink. Happy hour 5-7pm. – 1st Prize: $100 voucher. 2nd Prize: $50 voucher 3rd Prize: Bottle of wine – Bookings essential. Click here to make a booking (No trivia on Etihad event days or public holidays)

Updated 7 months ago

Friday

Happy Hour

Various

Monday to Thursday: 5pm - 7pm & Friday: 5 - 9pm $6 Carlton Pints; $5 House Wines; $6 Spirits * Not available on Etihad event days

Updated 7 months ago

Friday

Pizza

$10.00

$10 Pizzas in a medium size. Special menu changing weekly, keep your eyes out for a mix of traditional and new flavours. * Not available on Etihad event days

Updated 7 months ago
Other specials nearby today
comments powered by

Disqus