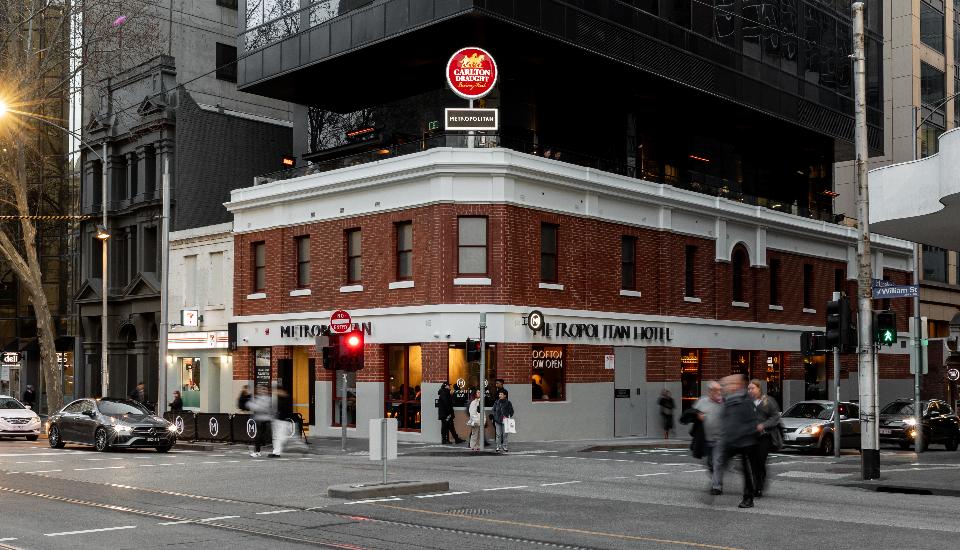 The Metropolitan Hotel
263 William Street,
Melbourne
3000
Website:

Telephone:
The Metropolitan Hotel in Melbourne has 14 weekly specials including their Monday Week day $18 Lunch menu special and also a Week day Happy Hour on Monday's. Check out all their cheap deals below!
A contemporary pub offering a modern Australian menu, pub classics and wood fired pizza, craft beer & private functions in the heart of the CBD.
Specials at The Metropolitan Hotel
Monday

Week day $18 Lunch menu

$18.00

Monday to Friday $18 Lunch Menu - Choice of 3 rotating mains served with a glass of wine OR beer OR soft drink

Updated 11 months ago

Monday

Week day Happy Hour

Various

Happy Hour 5-7: $5 spirits, $8 craft pints

Updated 11 months ago

Tuesday

Week day $18 Lunch menu

$18.00

Monday to Friday $18 Lunch Menu - Choice of 3 rotating mains served with a glass of wine OR beer OR soft drink

Updated 11 months ago

Tuesday

Week day Happy Hour

Various

Happy Hour 5-7: $5 spirits, $8 craft pints

Updated 11 months ago

Wednesday

Steak and Cellar Night

$16.00

Steak Night and Cellar Night - premium bottles opened and served by the glass (perfectly matched to the cut of the night)

Updated 11 months ago

Wednesday

Week day $18 Lunch menu

$18.00

Monday to Friday $18 Lunch Menu - Choice of 3 rotating mains served with a glass of wine OR beer OR soft drink

Updated 11 months ago

Wednesday

Week day Happy Hour

Various

Happy Hour 5-7: $5 spirits, $8 craft pints

Updated 11 months ago

Thursday

Week day $18 Lunch menu

$18.00

Monday to Friday $18 Lunch Menu - Choice of 3 rotating mains served with a glass of wine OR beer OR soft drink

Updated 11 months ago

Thursday

Week day Happy Hour

Various

Happy Hour 5-7: $5 spirits, $8 craft pints

Updated 11 months ago

Thursday

Espresso Martinis from 5pm

$12.00

It's almost Friday so celebrate $12 espresso martinis from 5pm!

Updated 11 months ago

Thursday

Trivia Night

FREE

6.30pm - 8.30pm - Weekly cash jackpot! Perfect for friends, colleagues or Social Club Events! Every Thursdays at the Metropolitan!

Updated 9 months ago

Friday

Week day $18 Lunch menu

$18.00

Monday to Friday $18 Lunch Menu - Choice of 3 rotating mains served with a glass of wine OR beer OR soft drink

Updated 11 months ago

Friday

Week day Happy Hour

Various

Happy Hour 5-7: $5 spirits, $8 craft pints

Updated 11 months ago

Friday

Wood Fired Pizzas

$10.00

Finish off the working week right with $10 wood fired pizzas!

Updated 11 months ago
Other specials nearby today
comments powered by

Disqus