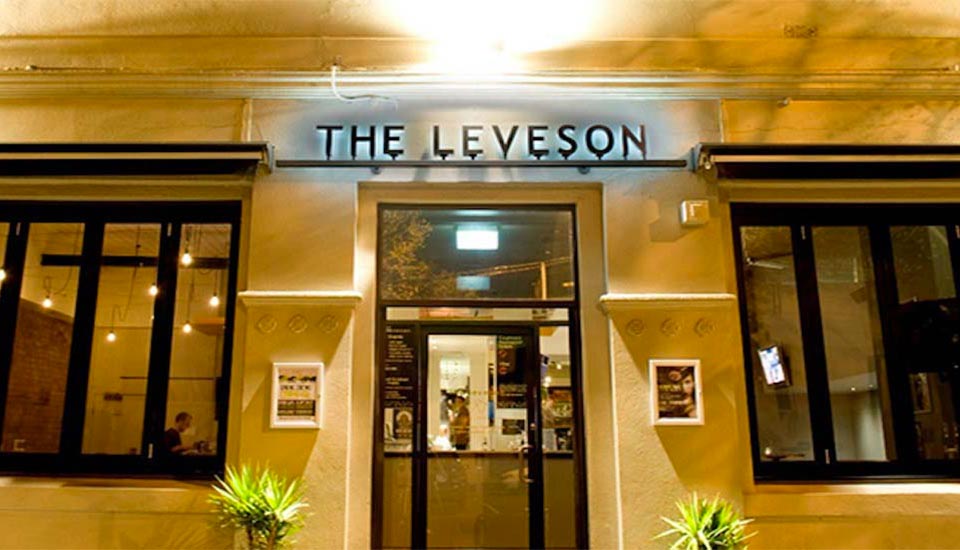 The Leveson
46 Leveson St,
North Melbourne
3051
Website:

Telephone:
The Leveson in North Melbourne has 5 weekly specials including their Monday Leveson Burger special and also a Crafty Parma on Tuesday's. Check out all their cheap deals below!
Located in the heart of North Melbourne, the Leveson has rapidly grown in popularity as a local favourite during its 11 year existence.

There is a lot more to the Leveson than their renowned chicken parmas. This is an establishment with everything, from a wide bar selection, restaurant, a relaxed grassed courtyard and a variety of function spaces. It is truly a unique contemporary venue catering to diners and party goers alike. Their annual Grand Final Day, Derby Day after Party and Super Bowl are all major days which have a strong following.

The extensive beer list showcases all the new craft beers and is in demand by the serious beer connoisseur but still offers the traditional favourites. Monday to Friday happy Hours The menu depicts fresh, diverse seasonal food and includes all the pub classics with a restaurant savoured twist. Seafood paella, spicy chicken wings and the ridiculously large beef ribs all make up an extensive menu which packs real flavour.

The courtyard has a retractable roof catering for patron comfort all year round. With enough room to cater for large groups, the courtyard's relaxed atmosphere makes it understandably a very popular destination in summer.

The Leveson is serious about its pub origins and its food. Its down-to-earth feel and friendly staff makes it the ideal pub to visit or claim as your local. Open 7 days a week, lunch and dinner, 12noon to late.
Specials at The Leveson
Monday

Leveson Burger

$16.00

Making Mondays Better, since forever. Including The Monday Kitchen Special: Leveson Burger $16 Buffalo Chicken Wings $10 Plus Happy Hour 6.00pm to 7.00pm

Updated 10 months ago

Tuesday

Crafty Parma

$19.00

Crafty Parma Tuesday's Lunch & Dinner Special: Parma and a Pint only $19 Plus Happy Hour 6.00pm to 7.00pm

Updated 10 months ago

Friday

Happy Hour

$10.00

Happy Hour from 5pm-7pm and 9pm-10pm. $10 cocktails. Kitchen open all day. Live acoustic from 5pm.

Updated 10 months ago

Saturday

Saturday Cocktails

$10.00

Kitchen open all day, $10 Summer Cocktails Happy Hour 3pm to 5pm, DJ at 9pm

Updated 10 months ago

Sunday

Sunday Cocktails

$10.00

Kitchen open all day, $10 Summer Cocktails Happy Hour 3pm to 5pm, Live Acoustic from 4pm

Updated 10 months ago
Other specials nearby today
comments powered by

Disqus