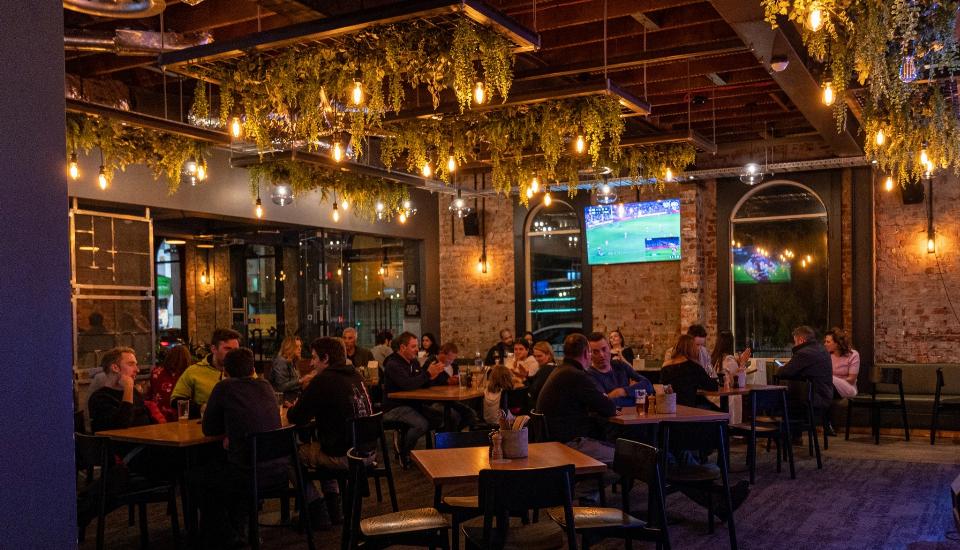 The Hawthorn Hotel
481 Burwood Road,
Hawthorn
3122
Website:

Telephone:
The Hawthorn Hotel in Hawthorn has 14 weekly specials including their Monday Parma's & Trivia special and also a Happy Hour every day on Monday's. Check out all their cheap deals below!
The Hawthorn Hotel is a fine example of a true local pub; a comfortable place where you can gather with friends and family to enjoy a relaxing drink and a tasty pub meal, as well as catch some live music and live comedy.

Established in 1855, The Hawthorn combines contemporary bar, restaurant and function facilities with the relaxed and friendly atmosphere of a traditional pub.

We also have several function spaces for hire, ideal for birthday celebrations, engagement parties, wedding receptions, corporate events and more. Our friendly and professional function team can help you create the perfect occasion to suit your theme, budget and food and beverage requirements.

A lot has changed over 150 years but one thing remains the same – the importance of an establishment that serves as a social hub for the local community. The Hawthorn Hotel is that establishment and more.
Specials at The Hawthorn Hotel
Monday

Parma's & Trivia

$14.00

Who said Monday nights had to be boring? Come and test your knowledge while having a drink with friends at our Trivia Night every Monday from 8pm! We also have $6 Happy Hour 4-7pm and $14 parmas.

Updated 1 year ago - may be way outdated

Monday

Happy Hour every day

Various

Get down to The Hawthorn for $5 Happy Hour and $10 espresso martinis every day from 4-7pm. $5 Happy Hour includes: Schooners of draught & cider Summer Bright Stubbies Basics & house wine *Some exclusions apply

Updated 1 year ago - may be way outdated

Tuesday

Tightarse Tuesday

$5.00

Get down to Melbourne's OG Student Night right here at The Hawthorn- TAT! "Splash out" on $5 pizza and $5 loaded fries all day, plus $6 basics $7 pints $9 Jagerbombs $5 Summer Brights from 9pm!

Updated 8 months ago

Tuesday

Happy Hour every day

Various

Get down to The Hawthorn for $5 Happy Hour and $10 espresso martinis every day from 4-7pm. $5 Happy Hour includes: Schooners of draught & cider Summer Bright Stubbies Basics & house wine *Some exclusions apply

Updated 1 year ago - may be way outdated

Wednesday

Steak Night

$14.00

Our succulent, juicy rump steaks are served fresh from the grill for just $14, every Wednesday. Wash it all down with $6 drinks during Happy Hour 4-7pm. Plus test your pool skills with $1 games.

Updated 1 year ago - may be way outdated

Wednesday

Happy Hour every day

Various

Get down to The Hawthorn for $5 Happy Hour and $10 espresso martinis every day from 4-7pm. $5 Happy Hour includes: Schooners of draught & cider Summer Bright Stubbies Basics & house wine *Some exclusions apply

Updated 1 year ago - may be way outdated

Thursday

Happy Hour every day

Various

Get down to The Hawthorn for $5 Happy Hour and $10 espresso martinis every day from 4-7pm. $5 Happy Hour includes: Schooners of draught & cider Summer Bright Stubbies Basics & house wine *Some exclusions apply

Updated 1 year ago - may be way outdated

Friday

Happy Hour every day

Various

Get down to The Hawthorn for $5 Happy Hour and $10 espresso martinis every day from 4-7pm. $5 Happy Hour includes: Schooners of draught & cider Summer Bright Stubbies Basics & house wine *Some exclusions apply

Updated 1 year ago - may be way outdated

Saturday

Happy Hour every day

Various

Get down to The Hawthorn for $5 Happy Hour and $10 espresso martinis every day from 4-7pm. $5 Happy Hour includes: Schooners of draught & cider Summer Bright Stubbies Basics & house wine *Some exclusions apply

Updated 1 year ago - may be way outdated

Saturday

Saturdays

$20.00

Weekends are for sharing, especially on Saturday here at The Hawthorn with $20 buckets of Summer Bright!

Updated 9 months ago

Saturday

Kids Eat Free!

Various

Kids Eat Free* Saturday and Sunday here at The Hawthorn! *one kids meal with every purchase of a main meal.

Updated 9 months ago

Sunday

Sunday Funday

$6.00

The realisation it's back to work on Monday isn't so bad when you have $6 drinks* available from 4-6pm every Sunday! *Excludes jugs, bottles of wine & draught is served schooner size only.

Updated 1 year ago - may be way outdated

Sunday

Happy Hour every day

Various

Get down to The Hawthorn for $5 Happy Hour and $10 espresso martinis every day from 4-7pm. $5 Happy Hour includes: Schooners of draught & cider Summer Bright Stubbies Basics & house wine *Some exclusions apply

Updated 1 year ago - may be way outdated

Sunday

Kids Eat Free!

Various

Kids Eat Free* Saturday and Sunday here at The Hawthorn! *one kids meal with every purchase of a main meal.

Updated 9 months ago
Other specials nearby today
comments powered by

Disqus