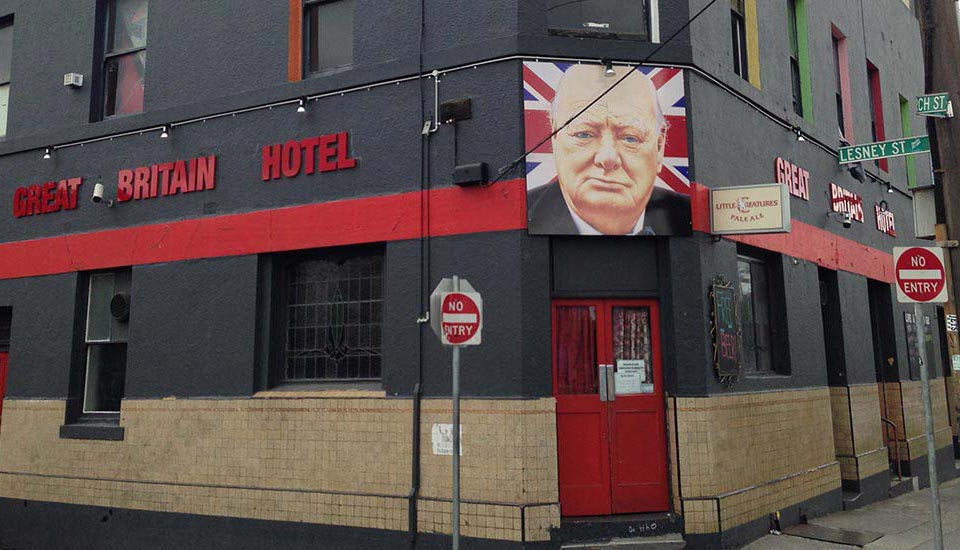 The Great Britain Hotel
447 Church Street,
Richmond
3121
Website:

Telephone:
The Great Britain Hotel in Richmond has 11 weekly specials including their Monday Cheeseburgers special and also a Happy Hour on Monday's. Check out all their cheap deals below!
The Great Britain Hotel, or 'GB' as it is more affectionately known, is a beautiful pub that has been living in Richmond for many a year. It's history is one of many tales. Some are still amazed how they came out alive! These days it is just a great friendly place to hang your hat and have a few drinks with friends.There's always something going on at The GBH. Whether it's open mic comedy, Richmond's only free pool night, a regular happy hour or great live music, you're never bored at The Great Britain.

Take a look at some of our regular events below and check out the big party events we've got planned! Book now!
Specials at The Great Britain Hotel
Monday

Cheeseburgers

$5.00

$5 cheeseburgers are available all day, every Monday at The Great Britain Hotel! Every Monday from 4 PM

Updated 10 months ago

Monday

Happy Hour

$7.00

Happy Hour 5-7pm. $7 Beer, House Wine and Basic Spirits. Every Monday, Tuesday, Wednesday, Thursday, Friday, Saturday, Sunday from 5 PM

Updated 10 months ago

Tuesday

Tacos

$3.00

Grab your $3 tacos all day, every Tuesday at The Great Britain Hotel. Muy loco! Plus trivia from 8pm. Every Tuesday from 4 PM

Updated 10 months ago

Tuesday

Happy Hour

$7.00

Happy Hour 5-7pm. $7 Beer, House Wine and Basic Spirits. Every Monday, Tuesday, Wednesday, Thursday, Friday, Saturday, Sunday from 5 PM

Updated 10 months ago

Wednesday

Steak Night

$10.00

Every Wednesday from 4 PM Every Wednesday from 4pm you can grab your steak for just $10! Your juicy rump steak also comes with chips and gravy - what's not to love. Have some.

Updated 10 months ago

Wednesday

Happy Hour

$7.00

Happy Hour 5-7pm. $7 Beer, House Wine and Basic Spirits. Every Monday, Tuesday, Wednesday, Thursday, Friday, Saturday, Sunday from 5 PM

Updated 10 months ago

Thursday

Happy Hour

$7.00

Happy Hour 5-7pm. $7 Beer, House Wine and Basic Spirits. Every Monday, Tuesday, Wednesday, Thursday, Friday, Saturday, Sunday from 5 PM

Updated 10 months ago

Friday

Happy Hour

$7.00

Happy Hour 5-7pm. $7 Beer, House Wine and Basic Spirits. Every Monday, Tuesday, Wednesday, Thursday, Friday, Saturday, Sunday from 5 PM

Updated 10 months ago

Saturday

Happy Hour

$7.00

Happy Hour 5-7pm. $7 Beer, House Wine and Basic Spirits. Every Monday, Tuesday, Wednesday, Thursday, Friday, Saturday, Sunday from 5 PM

Updated 10 months ago

Sunday

Chicken Wings

$1.00

Buffalo wings with BBQ, honey soy and sriracha for just $1! Ain't nothing like GB chicken wings! Want to take on our GB Reaper Sauce Chicken Wing Challenge? Eat 6 wings in 15 minutes to score yourself a free tee, glass of milk and have your Polaroid featured on the wall. Every Sunday from 4 PM

Updated 10 months ago

Sunday

Happy Hour

$7.00

Happy Hour 5-7pm. $7 Beer, House Wine and Basic Spirits. Every Monday, Tuesday, Wednesday, Thursday, Friday, Saturday, Sunday from 5 PM

Updated 10 months ago
Other specials nearby today
comments powered by

Disqus