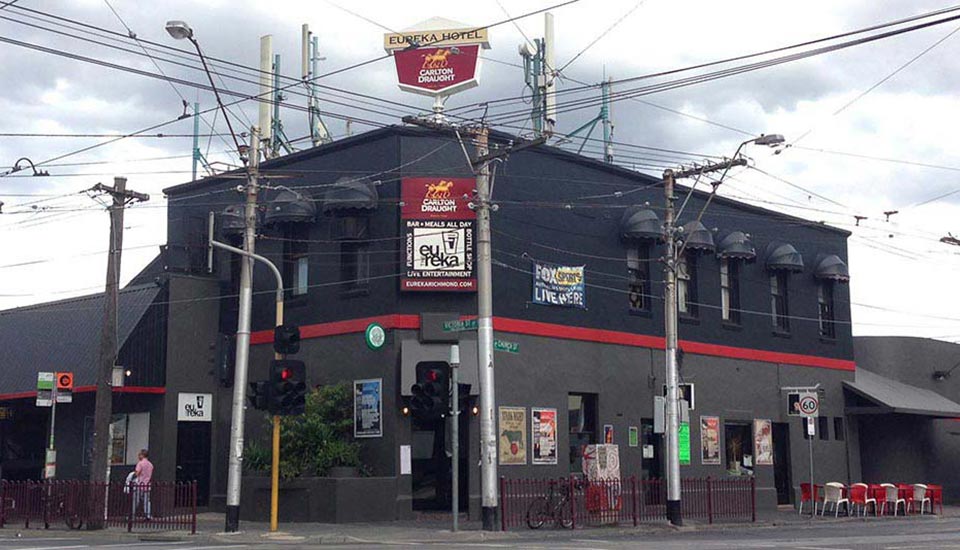 The Eureka Hotel
Corner Victoria and Church Street,
Richmond
3121
Website:

Telephone:
The Eureka Hotel in Richmond has 14 weekly specials including their Monday Parma & Pot special and also a Happy Hour on Monday's. Check out all their cheap deals below!
The Eureka Hotel, Located in Richmond, a stone's throw away from Abbotsford, is classic on the outside, and modern and comfortable on the inside.

After changing owners and purposes dozens of times over the years, the venue was nostalgically reinstated it's original name, by the Reardon family, who have owned and operated pubs in Melbourne for three generations.

The front bar is comfortable, open and inviting well suited for the locals and those visiting from neighboring suburbs to enjoy the many events and entertainment on offer every day, or some of the other delights on our drink and dining menus.

Come in and enjoy our extensive drinks list, classic pub menu, and book your next event in one of our great function spaces.
Specials at The Eureka Hotel
Monday

Parma & Pot

$15.00

Includes pot of beer, cider or soft drink every Monday & Thursday 5pm - 9pm

Updated 10 months ago

Monday

Happy Hour

$5.00

4:30pm - 6pm Every day! $5 pints $5 wines $5 spirits

Updated 10 months ago

Tuesday

Tequila Trivia Tacos

$15.00

$15 tacos $5 tequila. Trivia from 8pm

Updated 10 months ago

Tuesday

Burger and Pot

$15.00

Burger Night and a pot for $15 Tuesday and Saturday

Updated 10 months ago

Tuesday

Happy Hour

$5.00

4:30pm - 6pm Every day! $5 pints $5 wines $5 spirits

Updated 10 months ago

Wednesday

Steak Night

$15.00

300 gram porterhouse steak

Updated 10 months ago

Wednesday

Happy Hour

$5.00

4:30pm - 6pm Every day! $5 pints $5 wines $5 spirits

Updated 10 months ago

Thursday

Parma & Pot

$15.00

Includes pot of beer, cider or soft drink every Monday & Thursday 5pm - 9pm

Updated 10 months ago

Thursday

Happy Hour

$5.00

4:30pm - 6pm Every day! $5 pints $5 wines $5 spirits

Updated 10 months ago

Friday

Steak Night

$15.00

300 gram porterhouse steak

Updated 10 months ago

Friday

Happy Hour

$5.00

4:30pm - 6pm Every day! $5 pints $5 wines $5 spirits

Updated 10 months ago

Saturday

Burger and Pot

$15.00

Burger Night and a pot for $15 Tuesday and Saturday

Updated 10 months ago

Saturday

Happy Hour

$5.00

4:30pm - 6pm Every day! $5 pints $5 wines $5 spirits

Updated 10 months ago

Sunday

Happy Hour

$5.00

4:30pm - 6pm Every day! $5 pints $5 wines $5 spirits

Updated 10 months ago
Other specials nearby today
comments powered by

Disqus