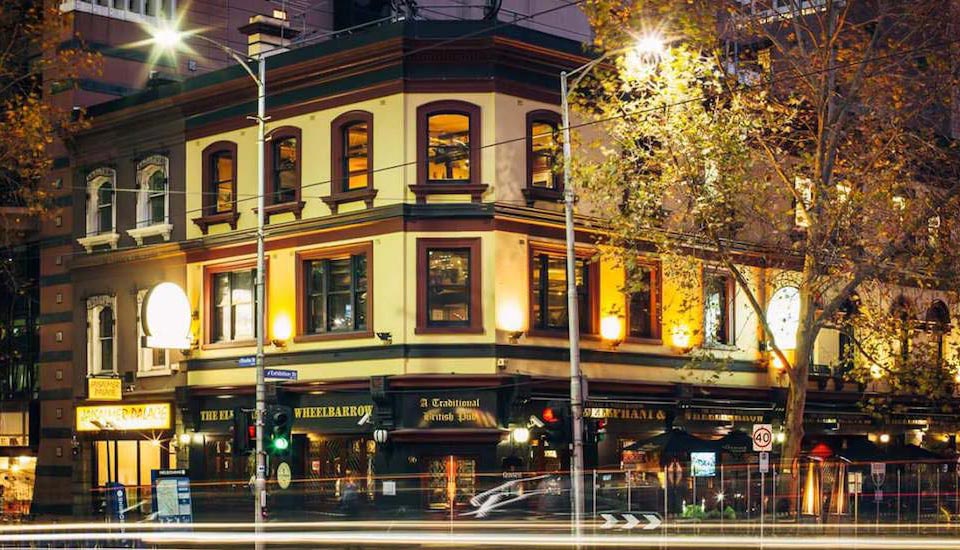 The Elephant and Wheelbarrow Bourke Street
94-96 Bourke Street,
Melbourne
3000
Website:

Telephone:
The Elephant and Wheelbarrow Bourke Street in Melbourne has 11 weekly specials including their Monday Parma Night special and also a Weekday lunch Burger & Pint on Monday's. Check out all their cheap deals below!
The Elephant & Wheelbarrow Pub, Melbourne opened its doors approx 10 years ago and caters to a diverse range of clientele. The pub features an extensive range of beers and a traditional English menu. Providing live music and sport every Thursday, Friday and Saturday night, there is something for everyone at the Elephant.

Located in the vibrant hub of Melbourne, on the corner of Bourke and Exhibition streets, you can always expect great food, a huge choice of beverages and service with a smile at the Elephant.

So bring your friends and family to The Elephant for some good times and great cheer.
Specials at The Elephant and Wheelbarrow Bourke Street
Monday

Parma Night

$17.00

Every Monday down at The Elephant & Wheelbarrow, grab yourself up one of our awesome Parmas for just $17. Now that's a great start to the week!

Updated 11 months ago

Monday

Weekday lunch Burger & Pint

$20.00

Burger and chips & a pint of Spitfire lager weekday lunch. MONDAY – FRIDAY - 12PM – 5PM One of the best value lunches downtown! JUST $20, WEEKDAYS.

Updated 10 months ago

Tuesday

Bangers & Mash Night

$17.00

Tuesday nights our Bangers & Mash special is the go! Cumberland sausages served with mash & veg, Just $17.

Updated 11 months ago

Tuesday

Weekday lunch Burger & Pint

$20.00

Burger and chips & a pint of Spitfire lager weekday lunch. MONDAY – FRIDAY - 12PM – 5PM One of the best value lunches downtown! JUST $20, WEEKDAYS.

Updated 10 months ago

Wednesday

Fish N Chips Night

$18.00

Wednesdays, get into The Elephant Bourke Street and score a delicious plate of fish and chips for just $18. Beer battered Dory fillets, served with a crisp garden salad, tartare sauce and lemon.

Updated 11 months ago

Wednesday

Weekday lunch Burger & Pint

$20.00

Burger and chips & a pint of Spitfire lager weekday lunch. MONDAY – FRIDAY - 12PM – 5PM One of the best value lunches downtown! JUST $20, WEEKDAYS.

Updated 10 months ago

Thursday

Pie Night

$17.00

A delicious homemade pie served with chips, salad and Gravy - all for just $17!

Updated 11 months ago

Thursday

Weekday lunch Burger & Pint

$20.00

Burger and chips & a pint of Spitfire lager weekday lunch. MONDAY – FRIDAY - 12PM – 5PM One of the best value lunches downtown! JUST $20, WEEKDAYS.

Updated 10 months ago

Friday

Weekday lunch Burger & Pint

$20.00

Burger and chips & a pint of Spitfire lager weekday lunch. MONDAY – FRIDAY - 12PM – 5PM One of the best value lunches downtown! JUST $20, WEEKDAYS.

Updated 10 months ago

Saturday

Friday Happy hour 5-7

Various

Friday night knock off drinks at The Elephant! $5 House Champagne $5 House Wine $6 Basic Spirits $6 Boags Draught Pints $6 Thatchers Cider Pints

Updated 11 months ago

Sunday

Sunday Roast

$19.90

Every Sunday from Midday - Your Choice of 2 roasts with all the trimmings! JUST $19.90

Updated 10 months ago
Other specials nearby today
comments powered by

Disqus