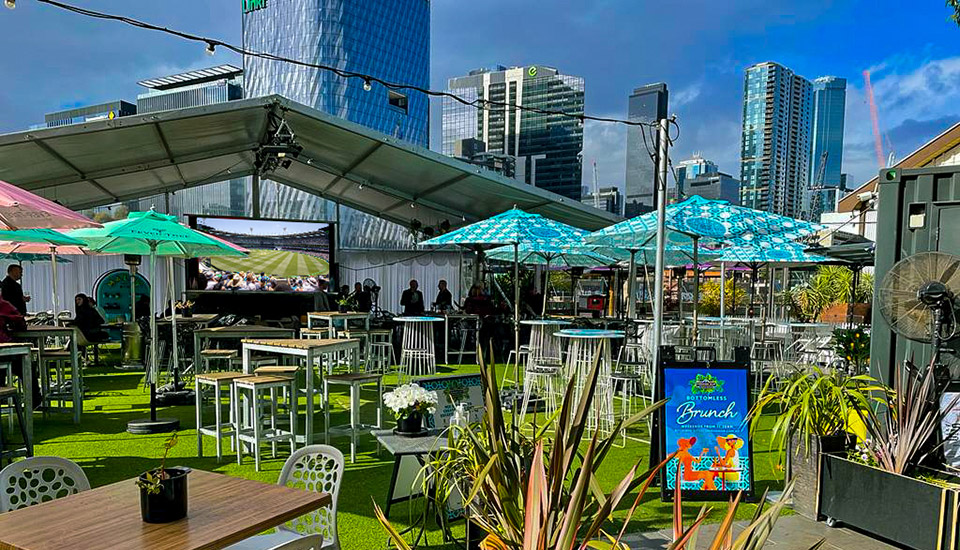 The Common Man
39 Dukes Walk,
South Wharf
3006
Website:

Telephone:
The Common Man in South Wharf has 10 weekly specials including their Monday Express Lunch Mid week special and also a Trivia Night on Tuesday's. Check out all their cheap deals below!
Serving satisfying rustic meals & a range of local and imported beers, Common Man epitomises Melbourne's colourful & approachable culture.

There's a dedicated breakfast menu seven days per week, happy hour and meal specials such as BBQ ribs.

All-day plates to share include crispy fried chicken with wasabi & lime mayonnaise, salt & pepper squid, tacos, burgers, pizza, fish and chips, & beef brisket.
Specials at The Common Man
Monday

Express Lunch Mid week

$19.00

12pm - 3pm Weekdays Take a break from the work grind with a Main + side + drink only $19!

Updated 11 months ago

Tuesday

Trivia Night

FREE

6pm start. Free entry, prizes & giveaways, drink specials, $10 pizzas, $5 Taco's

Updated 11 months ago

Tuesday

Express Lunch Mid week

$19.00

12pm - 3pm Weekdays Take a break from the work grind with a Main + side + drink only $19!

Updated 11 months ago

Tuesday

Taco's

$5.00

12pm - late choose from: spiced chicken, soft shell crab & mixed vegetable, dine in only

Updated 11 months ago

Wednesday

Express Lunch Mid week

$19.00

12pm - 3pm Weekdays Take a break from the work grind with a Main + side + drink only $19!

Updated 11 months ago

Thursday

Express Lunch Mid week

$19.00

12pm - 3pm Weekdays Take a break from the work grind with a Main + side + drink only $19!

Updated 11 months ago

Thursday

Chilli Con Carne & Red Wine

$22.00

Chilli Con Carne with sides & a glass of red $22 - 12pm - late

Updated 11 months ago

Thursday

50c Buffalo Wings

$0.50

12pm - late: Buffalo Wings 0.50c each (minimum buy of 4 wings)

Updated 11 months ago

Friday

Express Lunch Mid week

$19.00

12pm - 3pm Weekdays Take a break from the work grind with a Main + side + drink only $19!

Updated 11 months ago

Friday

Cocktails BBQ & Tunes

$10.00

$10 cocktail specials (12pm - late) - choose from Aperol Spritz, Mojito, Espresso Martini $12 espresso martinis all day and night Live Music, BBQ & smoked meat specials 4-7pm

Updated 11 months ago
Other specials nearby today
comments powered by

Disqus