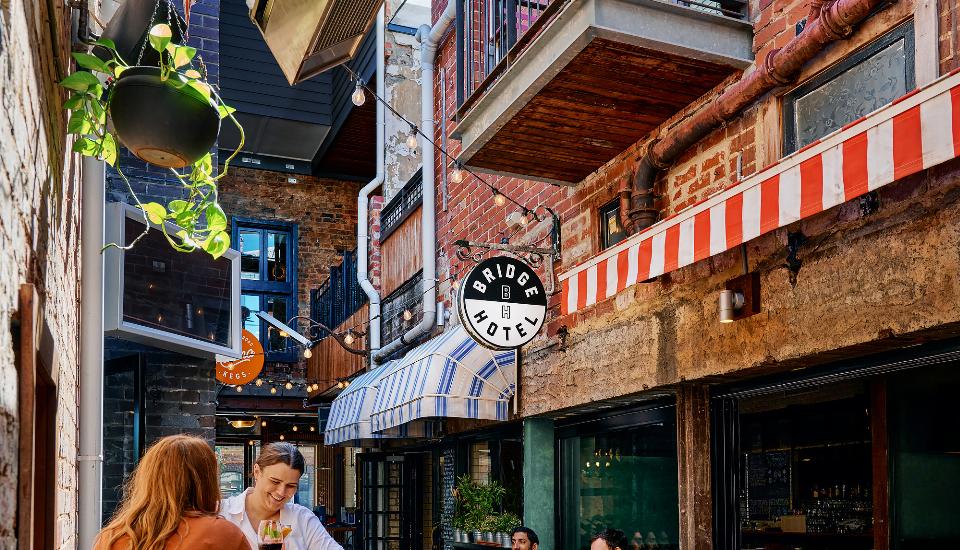 The Bridge Hotel
642 Bridge Road,
Richmond
3121
Website:

Telephone:
The Bridge Hotel in Richmond has 1 weekly special A Steak Night on Tuesday.
The Bistro is inspired by a place we found in Berlin, called Soho House. The style of dining is informal, laid back and cool. So please feel free to slouch in your seat.

Perched above The Bistro is our Bistro Balcony room – a private mezzanine that seats 22. As the name implies, it also has private balcony access.

Please note that parking in Westbank Terrace is Permit Parking and is patrolled by inspectors; there is ample parking on Bridge Road and also to the north of Bridge Road.

The Winter Garden is made up of four large booths that each seat between 6 and 10 people. It's at the front of the venue and absolutely on show.

And finally at the end of the lane is our Loading Bay, a private room for 10. Your rules.

Bookings can be made for the Bistro, Bistro Balcony, Winter Garden and Loading Bay on 03 9429 5734.

You're also welcome to eat in the Public Bar, Club Bar, Diner Bar, Laneway, Studio and The Loft (however seating is not reserved in these areas).

The kitchen is open 7 days a week from midday for lunch & dinner.
Specials at The Bridge Hotel
Tuesday

Steak Night

$18.00

$18 porterhouse, salad & chips

Updated 11 months ago
Other specials nearby today
comments powered by

Disqus