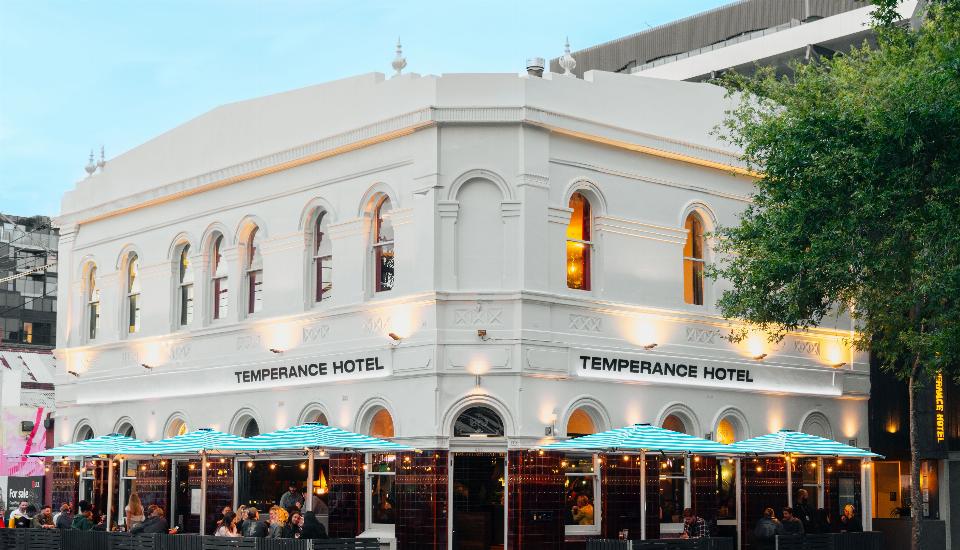 Temperance Hotel
426 Chapel St,
South Yarra
3141
Website:

Telephone:
Temperance Hotel in South Yarra has 10 weekly specials including their Monday Steak night special and also a Workers Lunch on Monday's. Check out all their cheap deals below!
Located in the heart of bustling Chapel Street, Temperance Hotel is a casual, relaxed local pub perfect for lunch, dinner or a night out. Kick back and relax with a cold beer or glass of wine, enjoy a pizza or a meal from our modern pub menu. Open everyday from noon till late.

DJs on Fridays & Saturday nights and Live Music Sundays. See What's On for more about our weekly entertainment & Special Events for all the big events here at Temperance Hotel.
Specials at Temperance Hotel
Monday

Steak night

$15.00

Chef's choice of cut, chips, salad & a pot of beer or glass of wine.

Updated 10 months ago

Monday

Workers Lunch

$20.00

$20 for a choice of Fish n Chips, Wagyu Burger, Pasta of the Day or Chicken Parma. Included is a glass of House Wine or a Pot of Beer. BOOM!

Updated 10 months ago

Tuesday

Steak night

$15.00

Chef's choice of cut, chips, salad & a pot of beer or glass of wine.

Updated 10 months ago

Tuesday

Workers Lunch

$20.00

$20 for a choice of Fish n Chips, Wagyu Burger, Pasta of the Day or Chicken Parma. Included is a glass of House Wine or a Pot of Beer. BOOM!

Updated 10 months ago

Wednesday

Parma and pot

$15.00

Get our delicious parma with chips, salad & a pot of beer or glass of wine for just $15 every Wednesday.

Updated 10 months ago

Wednesday

Workers Lunch

$20.00

$20 for a choice of Fish n Chips, Wagyu Burger, Pasta of the Day or Chicken Parma. Included is a glass of House Wine or a Pot of Beer. BOOM!

Updated 10 months ago

Thursday

Burger & Beer

$15.00

Each Thursday the best burger on the strip with a pot of beer or glass of wine for just $15!

Updated 10 months ago

Thursday

Workers Lunch

$20.00

$20 for a choice of Fish n Chips, Wagyu Burger, Pasta of the Day or Chicken Parma. Included is a glass of House Wine or a Pot of Beer. BOOM!

Updated 10 months ago

Friday

Fish N Chips & Pot

$15.00

Fish & Chips with a pot of beer or glass of wine for just $15 every Friday

Updated 10 months ago

Friday

Workers Lunch

$20.00

$20 for a choice of Fish n Chips, Wagyu Burger, Pasta of the Day or Chicken Parma. Included is a glass of House Wine or a Pot of Beer. BOOM!

Updated 10 months ago
Other specials nearby today
comments powered by

Disqus