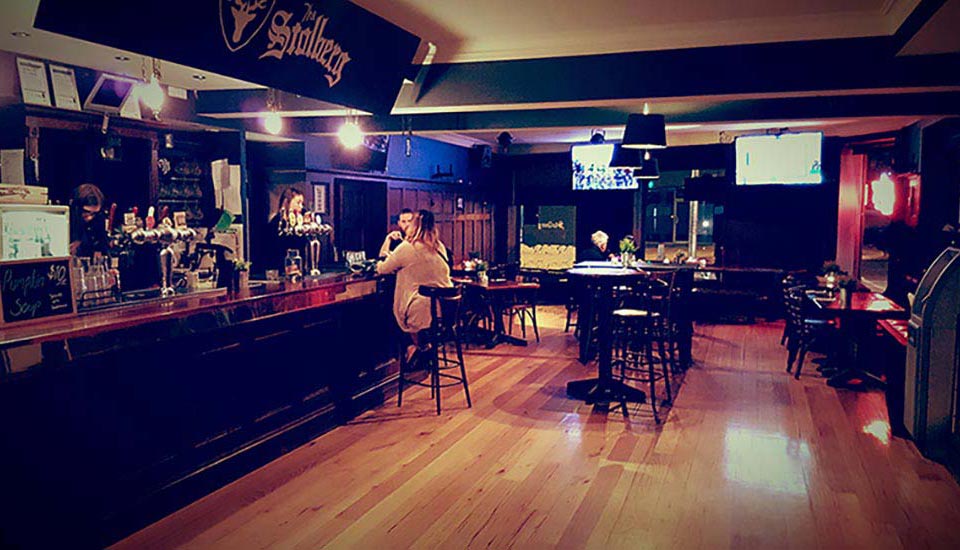 Stolberg Beer Cafe
Corner Bell Street and Plenty Road,
Preston
3072
Website:

Telephone:
Stolberg Beer Cafe in Preston has 7 weekly specials including their Monday Locals Night special and also a Pizza and Pot Night on Tuesday's. Check out all their cheap deals below!
Located on the corner of Plenty Road and Bell Street, this historic pub has been running for over 130 years making it one of the oldest pubs in the area.

The Stolberg provides a great environment for a number of different occasions; a few beers with mates watching the footy, after-work drinks, a night out with the girls for dinner or that special family celebration.


Specials at Stolberg Beer Cafe
Monday

Locals Night

$16.00

Locals night at the Stolberg. ALL MAIN MEALS only $16!

Updated 10 months ago

Tuesday

Pizza and Pot Night

$10.00

$10 Pizza and Pot Night / Uni students (must show uni id) $5 Pizza and Pot (9 to 10pm)

Updated 10 months ago

Wednesday

Parma and Trivia

$15.00

Pot and Parma $15 - Trivia FREE Parma available for everyone! (vegie option available). Trivia by Quizmeisters.

Updated 10 months ago

Thursday

Steak Comedy Live Music

Various

COMEDY NIGHT, LIVE MUSIC & STEAK NIGHT Steak Night: Rump $15, Scotch Fillet $19, Eye Fillet $22. All 250g and come with chips, salad and your choice of sauce. Tickets for comedy night available through eventbrite, search comedy @ the stolberg

Updated 10 months ago

Thursday

Pizza Night

$10.00

Choose from one of our Delicious gourmet pizzs and team it with a pot of Boags Drought or 5 Seeds Cider!!! Plus LIVE MUSIC from many of our talented friends from 7pm every Thursday night! So get your friends together and kick off the weekend @ Stolberg Thursday Night LIVE MUSIC!

Updated 4 years ago - may be way outdated

Friday

Pint O'Clock

Various

Pint o Clock!!! $6 pints of all tap beer till 6pm, $7 pints to 7pm and $8 pints to 8pm… we did say ALL TAP BEER!! DJ SUPERAWSOMEPARTY in the beergarden from 9pm

Updated 10 months ago

Sunday

Sunday Roast

$16.00

Sunday Roast of the day with all the trimmings $16

Updated 10 months ago
Other specials nearby today
comments powered by

Disqus