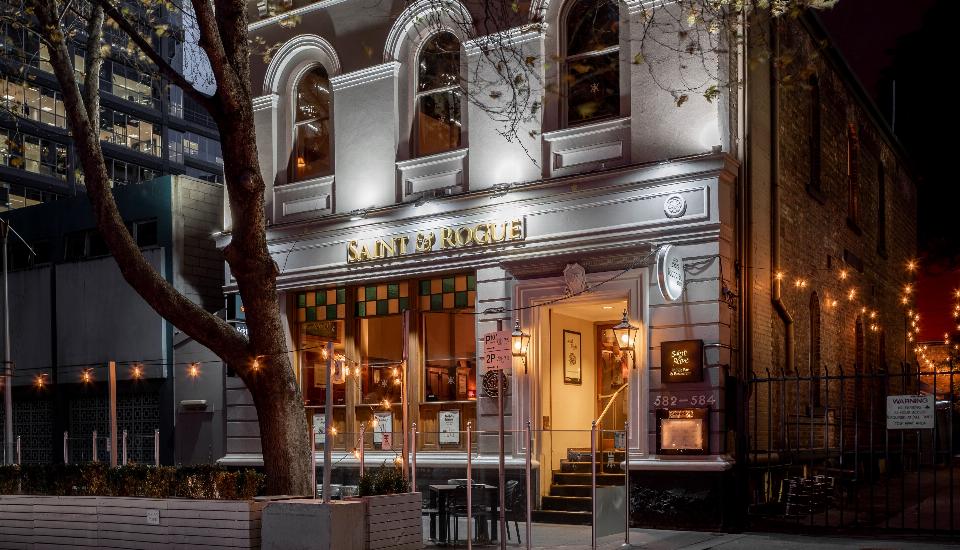 Saint & Rogue
582 Little Collins Street,
Melbourne
3000
Website:

Telephone:
Saint & Rogue in Melbourne has 12 weekly specials including their Monday Steak Day special and also a Express Lunch Menu on Monday's. Check out all their cheap deals below!
Saint & Rogue is an informal gastro pub that offers a comfortable environment ideal to host a variety of events; the space is adaptable to suit your requirements.

Saint & Rogue can cater for any type of event. Ideally located just 100 metres from Southern Cross Station and close to Etihad Stadium, the split-level venue offers function spaces for anywhere between 10 and 200 guests, with a superb 150 year old cathedral ceiling setting the scene for a memorable occasion.
Specials at Saint & Rogue
Monday

Steak Day

$20.00

Every Monday & Tuesday only $20 MSA graded 100% Australian Beef

Updated 8 months ago

Monday

Express Lunch Menu

$17.00

Express lunch 12-3 Mon-Tues. Meals include Steak Sandwich, Petite Chicken Parma, Southern Fried Chicken Wrap, Thai beef salad, Fungi fettucini

Updated 8 months ago

Monday

Happy Hour

Various

Weeknights 4pm - 7pm happy hour: $7.50 pints Pure Blonde and $6.50 glasses of house wine, bubbles or Rose.

Updated 8 months ago

Tuesday

Steak Day

$20.00

Every Monday & Tuesday only $20 MSA graded 100% Australian Beef

Updated 8 months ago

Tuesday

Express Lunch Menu

$17.00

Express lunch 12-3 Mon-Tues. Meals include Steak Sandwich, Petite Chicken Parma, Southern Fried Chicken Wrap, Thai beef salad, Fungi fettucini

Updated 8 months ago

Tuesday

Happy Hour

Various

Weeknights 4pm - 7pm happy hour: $7.50 pints Pure Blonde and $6.50 glasses of house wine, bubbles or Rose.

Updated 8 months ago

Wednesday

Locals Night

$20.00

All main meals only $20

Updated 8 months ago

Wednesday

Express Lunch Menu

$17.00

Express lunch 12-3 Mon-Tues. Meals include Steak Sandwich, Petite Chicken Parma, Southern Fried Chicken Wrap, Thai beef salad, Fungi fettucini

Updated 8 months ago

Wednesday

Happy Hour

Various

Weeknights 4pm - 7pm happy hour: $7.50 pints Pure Blonde and $6.50 glasses of house wine, bubbles or Rose.

Updated 8 months ago

Thursday

Express Lunch Menu

$17.00

Express lunch 12-3 Mon-Tues. Meals include Steak Sandwich, Petite Chicken Parma, Southern Fried Chicken Wrap, Thai beef salad, Fungi fettucini

Updated 8 months ago

Thursday

Happy Hour

Various

Weeknights 4pm - 7pm happy hour: $7.50 pints Pure Blonde and $6.50 glasses of house wine, bubbles or Rose.

Updated 8 months ago

Friday

Happy Hour

Various

Weeknights 4pm - 7pm happy hour: $7.50 pints Pure Blonde and $6.50 glasses of house wine, bubbles or Rose.

Updated 8 months ago
Other specials nearby today
comments powered by

Disqus