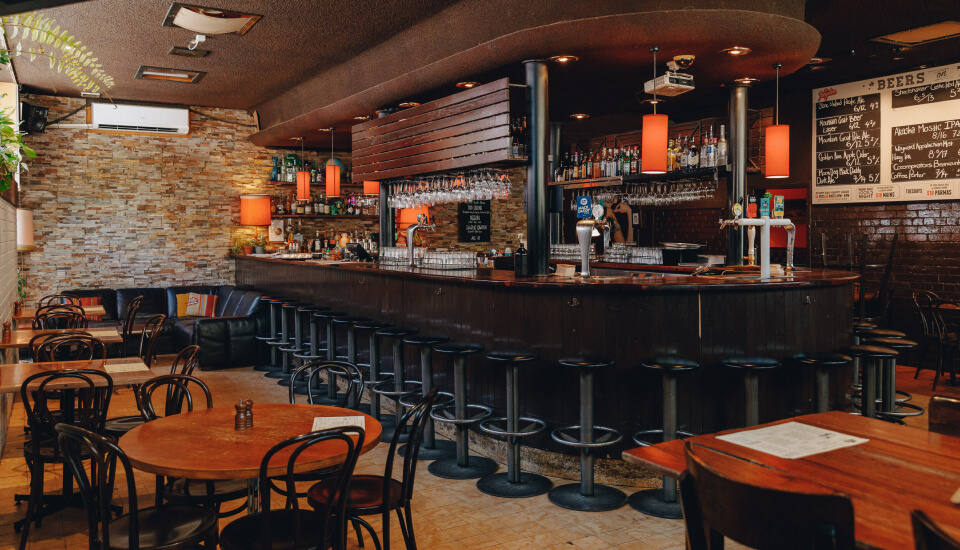 Royston Hotel
12 River St,
Richmond
3121
Website:

Telephone:
Royston Hotel in Richmond has 12 weekly specials including their Monday Local's Night special and also a Happy Hour on Monday's. Check out all their cheap deals below!
The Royston was the first Melbourne pub to feature predominantly microbrewery beers. And while we now have a few imitators, the Royston maintains its reputation as the pre-eminent microbrewery pub. With a constantly rotating selection of 10 micros on tap plus another on the traditional hand-pump tap, we aim for quality, not quantity. Served by staff who know and love the beer they sell, in an atmosphere conducive to savouring the amber, you won't find a better quality beer experience in Melbourne.

But we can't just talk about the beer. The Royston's food reputation continues to grow, and we've had to embrace that strange word "gastropub". Again, there's a few pubs in town scrambling for the title, and mostly they come with a figurehead celebrity chef and prices to match. Meanwhile our unassuming kitchen team, led by our Head Chef, Rob Clark, continues to win rave reviews. Rob is no figurehead - he's in the kitchen day-in day-out, pumping out the amazing menu that is available in both the front bar and the dining room.

And there's no pretensions. We pride ourselves on providing a venue that makes you feel at home the moment you walk in. From our friendly front bar to our cosy restaurant. From our amazing selection of beers on tap to our pool room.

So bring some friends down for a bite or drink.
In the meantime, come on in and lets see how
much we can make you feel right at home...
Specials at Royston Hotel
Monday

Local's Night

$18.00

$18 mains in the front bar and dining room

Updated 10 months ago

Monday

Happy Hour

Various

$4 pots and $8 pints 4pm - 6pm every day!

Updated 10 months ago

Tuesday

Parma

$18.00

In the front bar and dining room

Updated 10 months ago

Tuesday

Happy Hour

Various

$4 pots and $8 pints 4pm - 6pm every day!

Updated 10 months ago

Wednesday

Burgers and Trivia

$18.00

Quizmeisters trivia, $18 burgers in the bar. Burgers: Hot chicken roll, rockling burger, Double patty cheese burger, Cheese stuffed mushroom burger

Updated 10 months ago

Wednesday

Trivia

FREE

Easily the worlds best pub trivia with Quizmeisters

Updated 10 months ago

Wednesday

Happy Hour

Various

$4 pots and $8 pints 4pm - 6pm every day!

Updated 10 months ago

Thursday

Steak Night

$18.00

Thursday is Steak Night at the Roy. In the front bar, we serve the 250g Porterhouse Steak with chips and salad, for a mere $18. And this ain't no cheap steak! We have a reputation to uphold so it's exactly the same steak that normally costs more than 20 bucks. From time to time, we toy with the idea of doing away with Steak Night. But we can't! It's an institution - and with good reason. We've been doing it since Week 1 in 2005 and it's played a small but vital role in making the Royston such a home away from home for so many of our regulars. So. Nothing changes. Thursday is Steak Night. 18 bucks. Front bar. Amazing value. See you at the Roy this Thursday.

Updated 10 months ago

Thursday

Happy Hour

Various

$4 pots and $8 pints 4pm - 6pm every day!

Updated 10 months ago

Friday

Happy Hour

Various

$4 pots and $8 pints 4pm - 6pm every day!

Updated 10 months ago

Saturday

Happy Hour

Various

$4 pots and $8 pints 4pm - 6pm every day!

Updated 10 months ago

Sunday

Happy Hour

Various

$4 pots and $8 pints 4pm - 6pm every day!

Updated 10 months ago
Other specials nearby today
comments powered by

Disqus