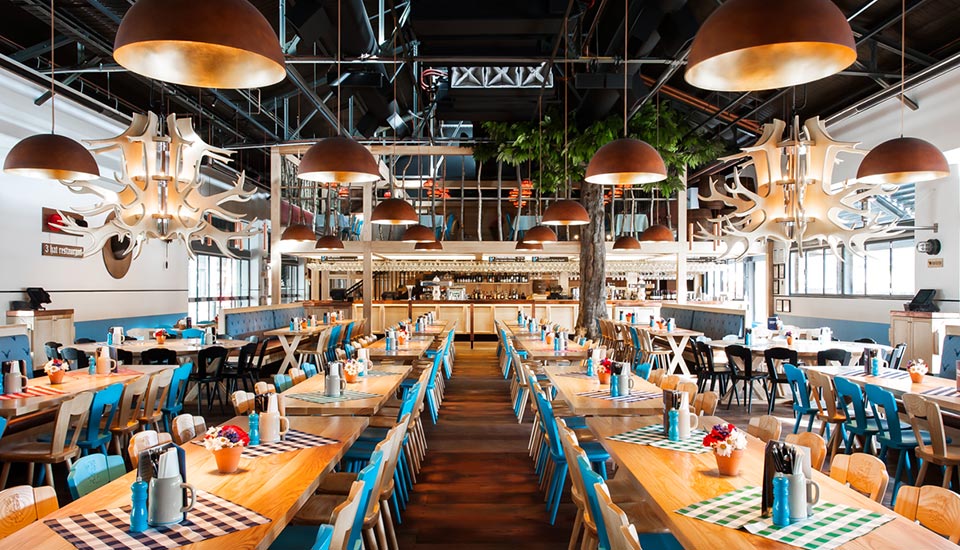 Munich Brauhaus
45 South Wharf Promenade,
South Wharf
3006
Website:

Telephone:
Munich Brauhaus in South Wharf has 13 weekly specials including their Monday 555 Happy Hour special and also a Carb Free Monday on Monday's. Check out all their cheap deals below!
Munich Brauhaus brings to life a traditional Bavarian bierhaus, where guests can dine, drink and party like Oktoberfest never ended. With 2 stellar venues across the east coast (soon to be 3), you can celebrate riverside in our 900 seat state-of-the-art Melbourne venue or drink & dine in the historic Rocks district of Sydney's CBD.

It's the place where the jokes about uber weiners will be aplenty, memories made with mates will be wunderbar, and the most popular pickup line will be, "Deutsch you want me, baby?`"

And remember, what happens in Munich stays in Munich.
Specials at Munich Brauhaus
Monday

555 Happy Hour

$5.00

555 Happy Hour $5 craft beers, $5 haus wine, $5 haus spirits, $5 selected cocktail & $1 wings Available every day 4-6pm

Updated 1 year ago - may be way outdated

Monday

Carb Free Monday

$15.00

Hand krafted salad, soup & a 300ml Blonde Moment Low Carb Lager

Updated 9 months ago

Tuesday

555 Happy Hour

$5.00

555 Happy Hour $5 craft beers, $5 haus wine, $5 haus spirits, $5 selected cocktail & $1 wings Available every day 4-6pm

Updated 1 year ago - may be way outdated

Tuesday

Schnitz Blitz

$20.00

Haus-made schnitzel with any 300ml craft beer

Updated 9 months ago

Wednesday

555 Happy Hour

$5.00

555 Happy Hour $5 craft beers, $5 haus wine, $5 haus spirits, $5 selected cocktail & $1 wings Available every day 4-6pm

Updated 1 year ago - may be way outdated

Wednesday

Burger & Beer

$15.00

Any burger & a 300ml craft beer

Updated 9 months ago

Thursday

555 Happy Hour

$5.00

555 Happy Hour $5 craft beers, $5 haus wine, $5 haus spirits, $5 selected cocktail & $1 wings Available every day 4-6pm

Updated 1 year ago - may be way outdated

Thursday

Sausage Sizzler

$5.00

Haus made hot dogs at $5 each or $10 with a 300ml craft beer

Updated 9 months ago

Friday

555 Happy Hour

$5.00

555 Happy Hour $5 craft beers, $5 haus wine, $5 haus spirits, $5 selected cocktail & $1 wings Available every day 4-6pm

Updated 1 year ago - may be way outdated

Friday

Schnapps Friday

Various

Paddle of schnapps for bookings of 6 or more

Updated 9 months ago

Saturday

555 Happy Hour

$5.00

555 Happy Hour $5 craft beers, $5 haus wine, $5 haus spirits, $5 selected cocktail & $1 wings Available every day 4-6pm

Updated 1 year ago - may be way outdated

Saturday

Big Combo Saturday

$50.00

Stein + Schnitzel + Schnapps

Updated 9 months ago

Sunday

555 Happy Hour

$5.00

555 Happy Hour $5 craft beers, $5 haus wine, $5 haus spirits, $5 selected cocktail & $1 wings Available every day 4-6pm

Updated 1 year ago - may be way outdated
Other specials nearby today
comments powered by

Disqus