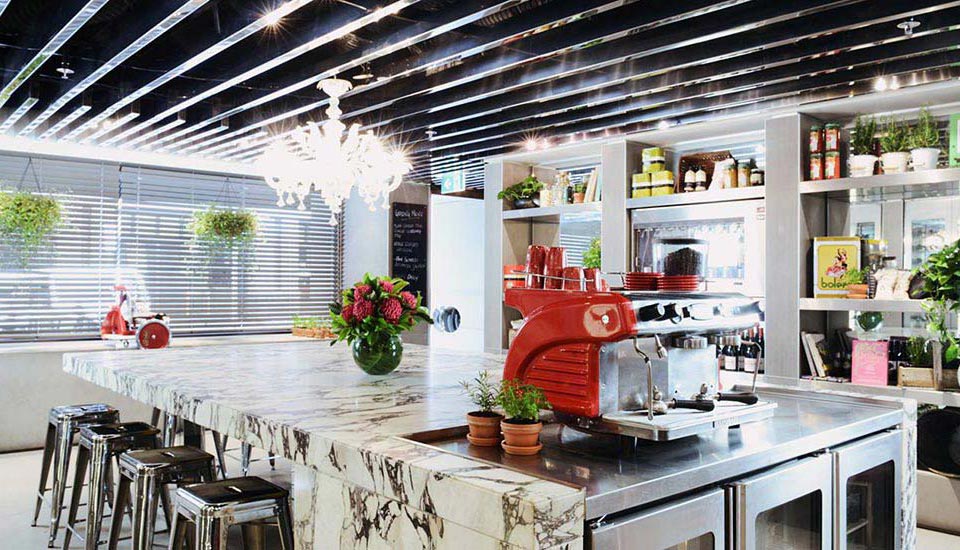 Locanda Restaurant & Bar
186 Exhibition Street,
Melbourne
3000
Website:

Telephone:
Locanda Restaurant & Bar in Melbourne has 5 weekly specials including their Monday Happy Hour special and also a Happy Hour on Tuesday's. Check out all their cheap deals below!
Set against the magnificent, almost-iconic backdrop of many of Melbourne's most famous buildings, monuments and theatres, Locanda Restaurant is famous not only for its incredible location and decor, but a menu created using the best of Victorian and Australian produce.

Locanda's dramatic design (the ceilings soar, the surfaces are Italian marble & stone, the furniture's contemporary design elements) instantly sets a luxurious, exciting tone.

Locanda Restaurant features two private dining rooms, surrounded by floor to ceiling glass wine cellars and the relaxed Bellabar, ideal for a light meal before exploring this vibrant city.

Specials at Locanda Restaurant & Bar
Monday

Happy Hour

Various

Monday - Thursday 5pm to 6pm and Friday 5pm to 7pm + Free Bar Snacks! POTS FROM $4 PINTS FROM $6 BASIC SPIRITS $6 HOUSE WINE $6

Updated 8 months ago

Tuesday

Happy Hour

Various

Monday - Thursday 5pm to 6pm and Friday 5pm to 7pm + Free Bar Snacks! POTS FROM $4 PINTS FROM $6 BASIC SPIRITS $6 HOUSE WINE $6

Updated 8 months ago

Wednesday

Happy Hour

Various

Monday - Thursday 5pm to 6pm and Friday 5pm to 7pm + Free Bar Snacks! POTS FROM $4 PINTS FROM $6 BASIC SPIRITS $6 HOUSE WINE $6

Updated 8 months ago

Thursday

Happy Hour

Various

Monday - Thursday 5pm to 6pm and Friday 5pm to 7pm + Free Bar Snacks! POTS FROM $4 PINTS FROM $6 BASIC SPIRITS $6 HOUSE WINE $6

Updated 8 months ago

Friday

Happy Hour

Various

Monday - Thursday 5pm to 6pm and Friday 5pm to 7pm + Free Bar Snacks! POTS FROM $4 PINTS FROM $6 BASIC SPIRITS $6 HOUSE WINE $6

Updated 8 months ago
Other specials nearby today
comments powered by

Disqus