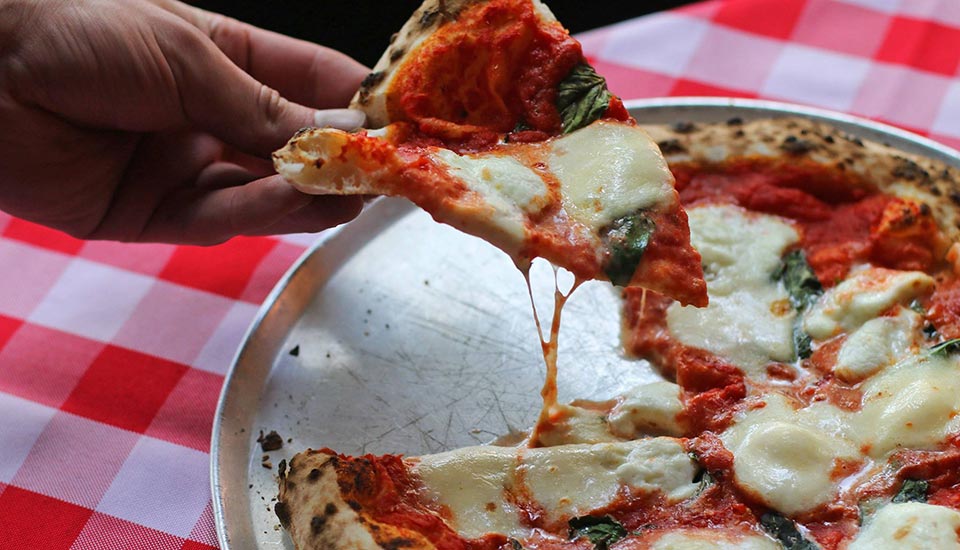 Lazerpig Pizza Parlour
9-11 Peel St,
Collingwood
Website:

Telephone:
Lazerpig Pizza Parlour in Collingwood has 7 weekly specials including their Monday Pizza or Burger Lunch special and also a Pizza or Burger Lunch on Tuesday's. Check out all their cheap deals below!
Funky pizza parlour with dishes created from our unique sourdough Culture, proved for a minimum of 72 hours and cooked in our hand built wood fired oven at 400+ degrees. We source only the best ingredients to top our pizzas, but the love is in the crust!

Burgers, cocktails and more on the menu!

At the heart of Lazerpig there is a passion for food, music, people and the party.

Eat pizza, dance for ages!
Specials at Lazerpig Pizza Parlour
Monday

Pizza or Burger Lunch

$15.00

10 inch pizza or a burger plus a house beer, cider or soft drink. Chips included with the burger! Or, 12 inch pizza for $15 without a beverage.

Updated 9 months ago

Tuesday

Pizza or Burger Lunch

$15.00

10 inch pizza or a burger plus a house beer, cider or soft drink. Chips included with the burger! Or, 12 inch pizza for $15 without a beverage.

Updated 9 months ago

Wednesday

Pizza or Burger Lunch

$15.00

10 inch pizza or a burger plus a house beer, cider or soft drink. Chips included with the burger! Or, 12 inch pizza for $15 without a beverage.

Updated 9 months ago

Thursday

Pizza or Burger Lunch

$15.00

10 inch pizza or a burger plus a house beer, cider or soft drink. Chips included with the burger! Or, 12 inch pizza for $15 without a beverage.

Updated 9 months ago

Friday

Pizza or Burger Lunch

$15.00

10 inch pizza or a burger plus a house beer, cider or soft drink. Chips included with the burger! Or, 12 inch pizza for $15 without a beverage.

Updated 9 months ago

Saturday

Pizza or Burger Lunch

$15.00

10 inch pizza or a burger plus a house beer, cider or soft drink. Chips included with the burger! Or, 12 inch pizza for $15 without a beverage.

Updated 9 months ago

Sunday

Pizza or Burger Lunch

$15.00

10 inch pizza or a burger plus a house beer, cider or soft drink. Chips included with the burger! Or, 12 inch pizza for $15 without a beverage.

Updated 9 months ago
Other specials nearby today
comments powered by

Disqus