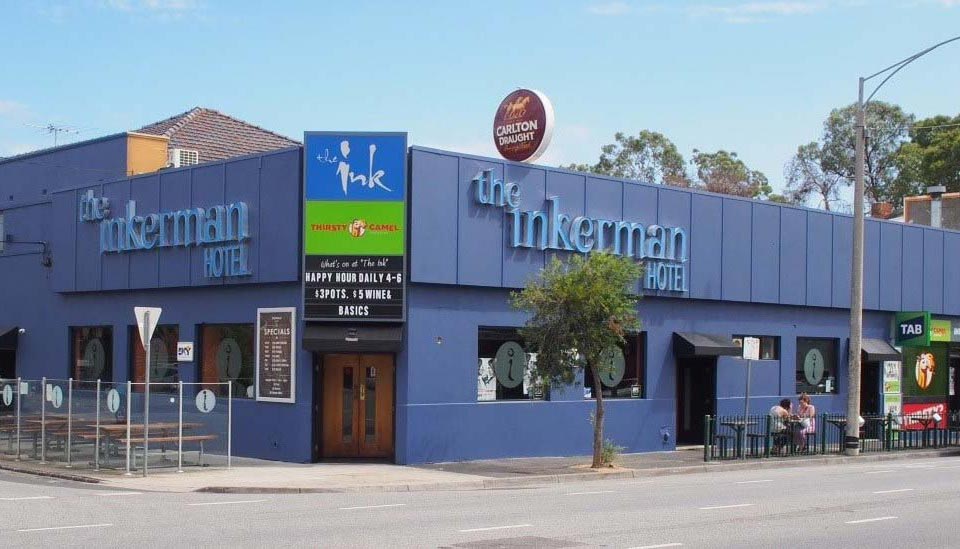 Inkerman Hotel
375 Inkerman Street,
Balaclava
3183
Website:

Telephone:
Inkerman Hotel in Balaclava has 16 weekly specials including their Monday Happy Hour special and also a Parma & Pot on Monday's. Check out all their cheap deals below!
The Inkerman is a popular and unpretentious pub in Balaclava giving punters a much needed break from the trendy bars popping up all over Melbourne.

Designed for the sports fanatic, televisions adorn practically every corner, making it ideal for those who want to get out of the house though don't want to miss the game.
Specials at Inkerman Hotel
Monday

Happy Hour

Various

4pm - 6pm every day! $3.50 pots, $5 basics, $5 house wines

Updated 11 months ago

Monday

Parma & Pot

$15.00

$15 for a parma & pot every day lunch and dinner

Updated 11 months ago

Tuesday

Happy Hour

Various

4pm - 6pm every day! $3.50 pots, $5 basics, $5 house wines

Updated 11 months ago

Tuesday

Parma & Pot

$15.00

$15 for a parma & pot every day lunch and dinner

Updated 11 months ago

Tuesday

Steak Night

$15.00

$15 scotch fillet every Tuesday

Updated 11 months ago

Wednesday

Happy Hour

Various

4pm - 6pm every day! $3.50 pots, $5 basics, $5 house wines

Updated 11 months ago

Wednesday

Parma & Pot

$15.00

$15 for a parma & pot every day lunch and dinner

Updated 11 months ago

Thursday

Happy Hour

Various

4pm - 6pm every day! $3.50 pots, $5 basics, $5 house wines

Updated 11 months ago

Thursday

Parma & Pot

$15.00

$15 for a parma & pot every day lunch and dinner

Updated 11 months ago

Friday

Happy Hour

Various

4pm - 6pm every day! $3.50 pots, $5 basics, $5 house wines

Updated 11 months ago

Friday

Parma & Pot

$15.00

$15 for a parma & pot every day lunch and dinner

Updated 11 months ago

Saturday

Happy Hour

Various

4pm - 6pm every day! $3.50 pots, $5 basics, $5 house wines

Updated 11 months ago

Saturday

Parma & Pot

$15.00

$15 for a parma & pot every day lunch and dinner

Updated 11 months ago

Sunday

Happy Hour

Various

4pm - 6pm every day! $3.50 pots, $5 basics, $5 house wines

Updated 11 months ago

Sunday

Parma & Pot

$15.00

$15 for a parma & pot every day lunch and dinner

Updated 11 months ago

Sunday

Sunday Roast

$18.00

Sunday Roast only $18

Updated 11 months ago
Other specials nearby today
comments powered by

Disqus