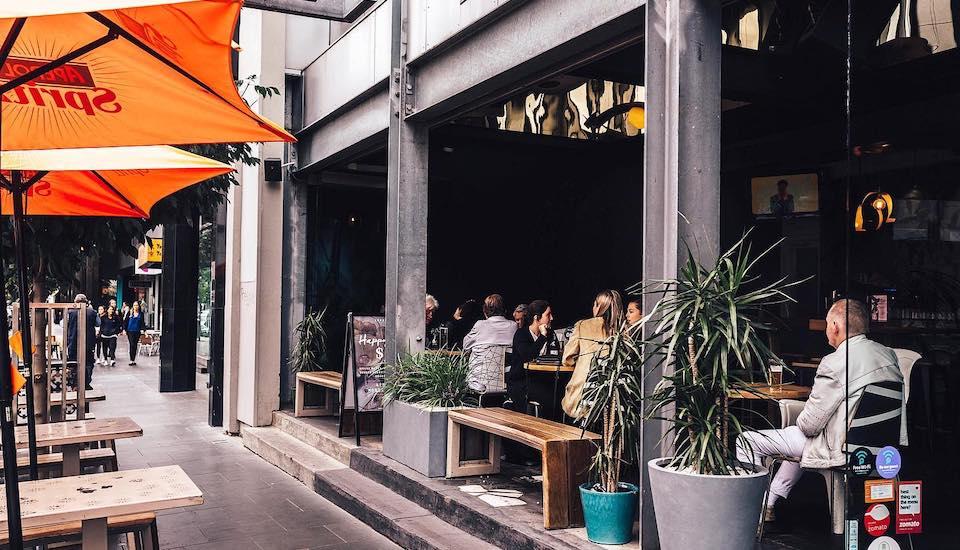 Imperial South Yarra
522 Chapel St,
South Yarra
3141
Website:

Telephone:
Imperial South Yarra in South Yarra has 16 weekly specials including their Monday Happy Hour special and also a Mid Week Express Lunch on Monday's. Check out all their cheap deals below!
Located in the heart of Chapel Street's dining and fashion precinct, the Imperial South Yarra offers bar, restaurant and function room facilities for you and your guests.

Featuring large open front windows to capture the sights and sounds of Chapel Street, a unique and striking interior, and a menu that will tantalise your taste buds, it's no wonder the Imperial enjoys a reputation as one of the finest bars in South Yarra.
Specials at Imperial South Yarra
Monday

Happy Hour

Various

EVERY DRINK* IS JUST $7 FROM 5-7PM EVERY MONDAY TO FRIDAY. WE ALSO HAVE $11-$14 GOURMET PIZZAS AVAILABLE ALL DAY AND $10 EXPRESS LUNCHES, 12-3PM. *EXCLUDES COCKTAILS AND BOTTLES OF WINE

Updated 10 months ago

Monday

Mid Week Express Lunch

$10.00

Save your money for the weekend and enjoy our $10 lunch specials at The Imperial from 12-3pm.

Updated 10 months ago

Monday

$10 Steaks

$10.00

Get yourself a $10 steak with chips, salad and your choice of sauce with any drink purchase.

Updated 9 months ago

Tuesday

Happy Hour

Various

EVERY DRINK* IS JUST $7 FROM 5-7PM EVERY MONDAY TO FRIDAY. WE ALSO HAVE $11-$14 GOURMET PIZZAS AVAILABLE ALL DAY AND $10 EXPRESS LUNCHES, 12-3PM. *EXCLUDES COCKTAILS AND BOTTLES OF WINE

Updated 10 months ago

Tuesday

Mid Week Express Lunch

$10.00

Save your money for the weekend and enjoy our $10 lunch specials at The Imperial from 12-3pm.

Updated 10 months ago

Tuesday

Tuesdays

$15.00

Select mains just $15 all day Tuesdays

Updated 9 months ago

Wednesday

Parma

$15.00

ON WEDNESDAYS WE EAT PARMAS. CHOOSE FROM A TRADITIONAL, AUSSIE OR MEXICAN PARMA WITH CHIPS OR SALAD FOR $15. AVAILABLE ALL DAY.

Updated 10 months ago

Wednesday

Happy Hour

Various

EVERY DRINK* IS JUST $7 FROM 5-7PM EVERY MONDAY TO FRIDAY. WE ALSO HAVE $11-$14 GOURMET PIZZAS AVAILABLE ALL DAY AND $10 EXPRESS LUNCHES, 12-3PM. *EXCLUDES COCKTAILS AND BOTTLES OF WINE

Updated 10 months ago

Wednesday

Mid Week Express Lunch

$10.00

Save your money for the weekend and enjoy our $10 lunch specials at The Imperial from 12-3pm.

Updated 10 months ago

Thursday

Happy Hour

Various

EVERY DRINK* IS JUST $7 FROM 5-7PM EVERY MONDAY TO FRIDAY. WE ALSO HAVE $11-$14 GOURMET PIZZAS AVAILABLE ALL DAY AND $10 EXPRESS LUNCHES, 12-3PM. *EXCLUDES COCKTAILS AND BOTTLES OF WINE

Updated 10 months ago

Thursday

Mid Week Express Lunch

$10.00

Save your money for the weekend and enjoy our $10 lunch specials at The Imperial from 12-3pm.

Updated 10 months ago

Thursday

2-4-1 Cocktails

Various

Two cocktails for the price of one, all day every Thursday.

Updated 9 months ago

Thursday

$10 Pizza

$10.00

$10 pizza all day Thursdays

Updated 9 months ago

Friday

Happy Hour

Various

EVERY DRINK* IS JUST $7 FROM 5-7PM EVERY MONDAY TO FRIDAY. WE ALSO HAVE $11-$14 GOURMET PIZZAS AVAILABLE ALL DAY AND $10 EXPRESS LUNCHES, 12-3PM. *EXCLUDES COCKTAILS AND BOTTLES OF WINE

Updated 10 months ago

Friday

Mid Week Express Lunch

$10.00

Save your money for the weekend and enjoy our $10 lunch specials at The Imperial from 12-3pm.

Updated 10 months ago

Friday

$10 Burgers

$10.00

Fridays are made better with our $10 burger deal! Available all day.

Updated 9 months ago
Other specials nearby today
comments powered by

Disqus