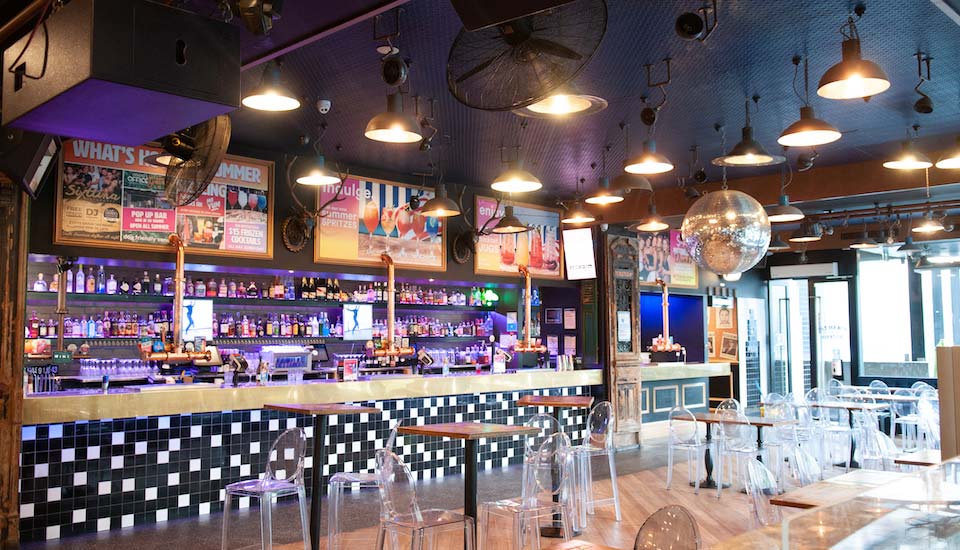 Father's Office
249 Little Lonsdale Street,
Melbourne
3000
Website:

Telephone:
Father's Office in Melbourne has 9 weekly specials including their Monday Happy Hour special and also a Happy Hour on Tuesday's. Check out all their cheap deals below!
Walk down Little Lonsdale St and find a set of doors with a peep-hole and the 18th Amendment on entry. Walk up the stairs and you are transformed into an old world of the 1920's prohibition era where the girls are dressed as flappers and guys as gangsters.

Father's Office Speakeasy Bar & Restaurant is based on prohibition Americana in the 1920s, when the consumption of alcohol was prohibited.
Specials at Father's Office
Monday

Happy Hour

Various

5pm - 7pm & 8pm - 10pm: $12 cocktails; $7 spirits; $6 schooners; $12 jugs; $6 bottle beer; $5 wine Every day except Sunday which is ALL DAY!

Updated 10 months ago

Tuesday

Happy Hour

Various

5pm - 7pm & 8pm - 10pm: $12 cocktails; $7 spirits; $6 schooners; $12 jugs; $6 bottle beer; $5 wine Every day except Sunday which is ALL DAY!

Updated 10 months ago

Tuesday

Bonnie & Clyde Pub Grub

$19.00

CHICKEN FRIED STEAK (G) Don't let the name fool you - this is steak! Australian grass-fed MSA certified Scotch fillet fried in a crispy buttermilk batter served with a side of potato salad, house made jalapeno pepper coleslaw, pickles and house made gravy. FISH N CHIPS (G) New Zealand Blue Whiting coated in a rosemary and ginger beer batter. served with a side of fries and tartare sauce. 300G AGED ANGUS RUMP STEAK (G) Cooked medium-rare and served with fries and mixed leaf salad. ZUCCHINI AND MACADAMIA BURGER (V) (V+) (N) (G+) A handmade zucchini and macadamia nut patty served with oozing melted Brie cheese, tomato, cos lettuce and a house made beetroot chutney. INCLUDES A DRINK Blind Barber lager Bootleg apple cider Lindeman's Henry's Sons Sparkling Cuvée / Shiraz Cabernet / Semillon Sauvignon Blanc Soft drinks and juice available

Updated 10 months ago

Wednesday

Happy Hour

Various

5pm - 7pm & 8pm - 10pm: $12 cocktails; $7 spirits; $6 schooners; $12 jugs; $6 bottle beer; $5 wine Every day except Sunday which is ALL DAY!

Updated 10 months ago

Wednesday

All you can eat Wings

$22.00

From 5pm, choose form 4 styles with a drink

Updated 10 months ago

Thursday

Happy Hour

Various

5pm - 7pm & 8pm - 10pm: $12 cocktails; $7 spirits; $6 schooners; $12 jugs; $6 bottle beer; $5 wine Every day except Sunday which is ALL DAY!

Updated 10 months ago

Thursday

Boo Boo's Philly Special

$19.00

From 5pm choose from 3 meals served with a drink

Updated 10 months ago

Friday

Happy Hour

Various

5pm - 7pm & 8pm - 10pm: $12 cocktails; $7 spirits; $6 schooners; $12 jugs; $6 bottle beer; $5 wine Every day except Sunday which is ALL DAY!

Updated 10 months ago

Saturday

Happy Hour

Various

5pm - 7pm & 8pm - 10pm: $12 cocktails; $7 spirits; $6 schooners; $12 jugs; $6 bottle beer; $5 wine Every day except Sunday which is ALL DAY!

Updated 10 months ago
Other specials nearby today
comments powered by

Disqus