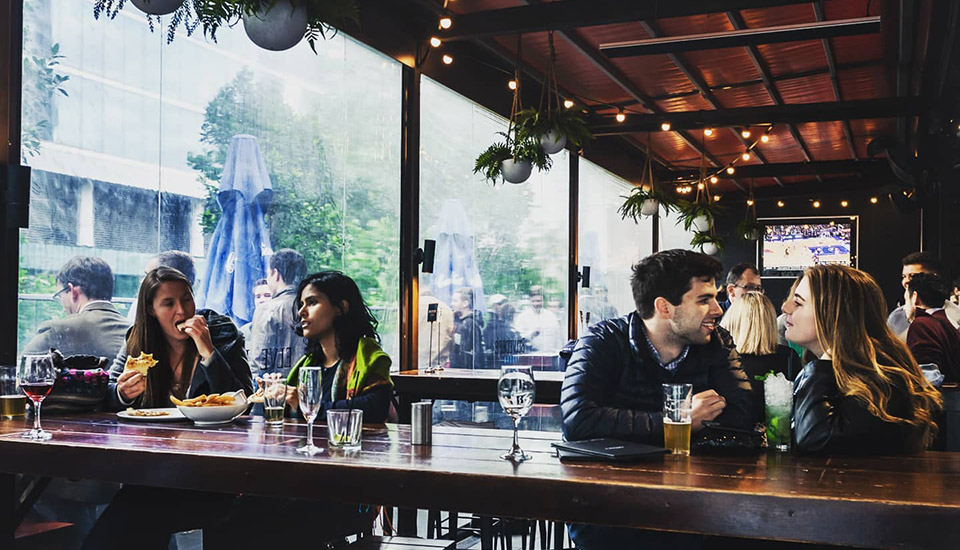 European Bier Cafe
120 Exhibition Street,
Melbourne
3000
Website:

Telephone:
European Bier Cafe in Melbourne has 9 weekly specials including their Monday Half price tap bier special and also a Happy Hour - Sunday to Thursday on Monday's. Check out all their cheap deals below!
The European Bier Cafe is one of Melbourne's premier dining, bar, entertainment and function venues, specialising in European and boutique biers with over 50 varieties, including 20 on tap.

The Euro is open for lunch and dinner 7 days a week and also offers delicious range of meals, tapas, and tasty share plates. The venue spans over 3 levels with multiple function spaces available, a large balcony overlooking leafy Exhibition Street, and the sophisticated rooftop 'Aer Bar' which is unquestionably one of the best spots in the city of an open-air drink and delicious meal.

On Friday and Saturday nights The Euro livens up with Melbourne's best live bands and music. The European Bier Cafe is the perfect place for a knock-off drink any day of the week, with plenty of happy hours and drink specials to be enjoyed.
Specials at European Bier Cafe
Monday

Half price tap bier

Various

Monday nights from 5pm we have half price tap bier! It excludes the bier of the month but includes EVERY other tap bier!

Updated 11 months ago

Monday

Happy Hour - Sunday to Thursday

Various

Rooftop only Sunday to Thursday, 8PM to 1AM: Basic spirits $7.50. Spirits include: Belvedere Vodka, Tequila Blu, Mount Gay Rum, Bombay Sapphire, Johnnie Walker Black, Makers Mark

Updated 1 year ago - may be way outdated

Tuesday

Steak Night

$15.00

$15 for a porterhouse steak with your choice of garlic butter, mushroom or peppercorn sauce - served with salad & chips

Updated 11 months ago

Tuesday

Happy Hour - Sunday to Thursday

Various

Rooftop only Sunday to Thursday, 8PM to 1AM: Basic spirits $7.50. Spirits include: Belvedere Vodka, Tequila Blu, Mount Gay Rum, Bombay Sapphire, Johnnie Walker Black, Makers Mark

Updated 1 year ago - may be way outdated

Wednesday

Parma All Day

$14.00

$14 for a Chicken Parmigiana topped with gypsy ham, napoli and our three cheese blend with chips and salad

Updated 11 months ago

Wednesday

Happy Hour - Sunday to Thursday

Various

Rooftop only Sunday to Thursday, 8PM to 1AM: Basic spirits $7.50. Spirits include: Belvedere Vodka, Tequila Blu, Mount Gay Rum, Bombay Sapphire, Johnnie Walker Black, Makers Mark

Updated 1 year ago - may be way outdated

Thursday

Buy 2 get 1 Free Tapas

Various

Thursdays from 5pm buy 2 tapas get one free!

Updated 1 year ago - may be way outdated

Thursday

Happy Hour - Sunday to Thursday

Various

Rooftop only Sunday to Thursday, 8PM to 1AM: Basic spirits $7.50. Spirits include: Belvedere Vodka, Tequila Blu, Mount Gay Rum, Bombay Sapphire, Johnnie Walker Black, Makers Mark

Updated 1 year ago - may be way outdated

Sunday

Happy Hour - Sunday to Thursday

Various

Rooftop only Sunday to Thursday, 8PM to 1AM: Basic spirits $7.50. Spirits include: Belvedere Vodka, Tequila Blu, Mount Gay Rum, Bombay Sapphire, Johnnie Walker Black, Makers Mark

Updated 1 year ago - may be way outdated
Other specials nearby today
comments powered by

Disqus