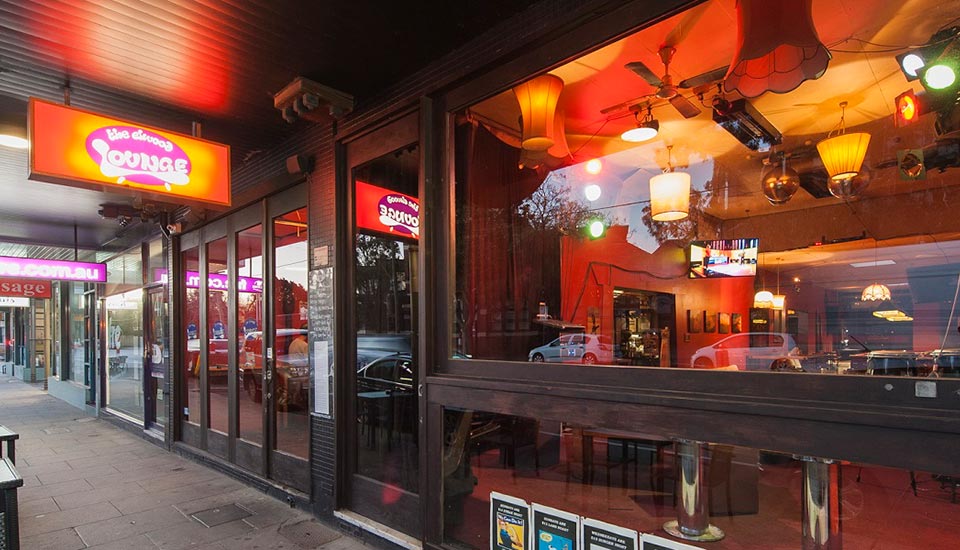 Elwood Lounge
49-51 Glen Huntly Rd,
Elwood
3184
Website:

Telephone:
Elwood Lounge in Elwood has 7 weekly specials including their Monday Steak Night special and also a 25% off main meals on Tuesday's. Check out all their cheap deals below!
The Elwood Lounge is an inviting, atmospheric and cosy bar. The style is pure lounge, art deco and retro all mixed together to provide a perfect place to meet friends for a meal or drinks out of the city.

It is a second home to most locals where they can enjoy our beautiful sunny courtyard or warm themselves by our open fireplace.
Specials at Elwood Lounge
Monday

Steak Night

$12.00

5-9pm $12 steaks $8 pints Red Stripe from 3-10pm

Updated 10 months ago

Tuesday

25% off main meals

Various

$25% off 5-9pn $8 pints Red Stripe 3-10pm

Updated 10 months ago

Wednesday

Burgers

$10.00

$10 burgers 5-9pm (different burgers) $14 jugs of Red Stripe (3-10pm)

Updated 10 months ago

Thursday

Parmas

$12.00

$12 parmas: 5-9pm (7 different types) $14 jugs of Red Stripe 3-10pm

Updated 10 months ago

Friday

Happy Hour

Various

$6 Glasses of House Wine : 3 - 10 pm $7 Shots of Agwa, Jager & Tequila : 3 - 10 pm $14 Jugs of Red Stripe : 3 - 10 pm

Updated 10 months ago

Saturday

Saturday's in Elwood

Various

$10 Big Brekky : 10 am - 1 pm $7 Bloody Mary's : 10 am - 1 pm $6 Glasses of House Wine : 3 - 10 pm $7 Shots of Agwa, Jager & Tequila : 3 - 10 pm $14 Jugs of Red Stripe : 3 - 10 pm

Updated 10 months ago

Sunday

Sunday Sesh

Various

$10 Big Brekky : 10 am - 1 pm $7 Bloody Mary's : 10 am - 1 pm $4 Stubbies of Huda : 3 - 10 pm

Updated 10 months ago
Other specials nearby today
comments powered by

Disqus