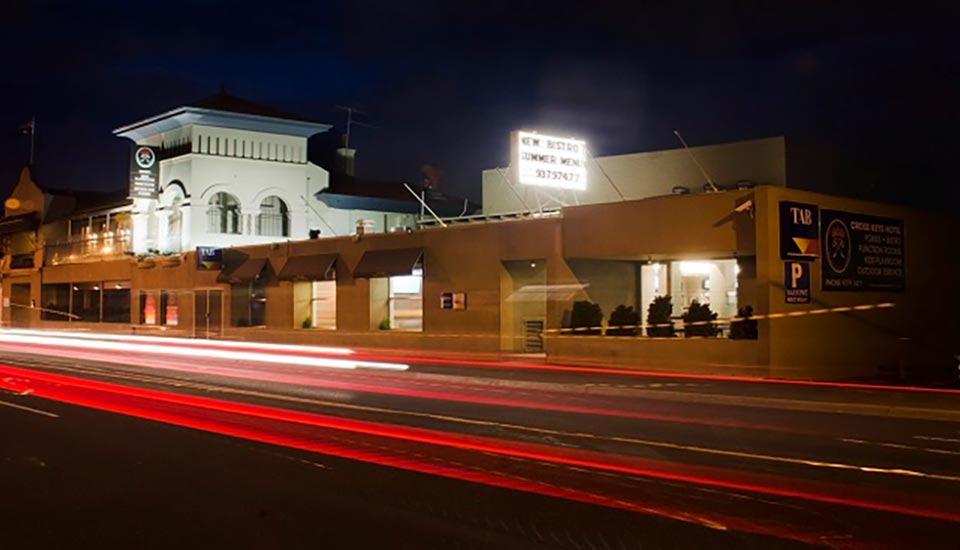 Cross Keys Hotel
350 Pascoe Vale Road,
Essendon North
3041
Website:

Telephone:
Cross Keys Hotel in Essendon North has 10 weekly specials including their Monday Sports Bar Meal special and also a Member's Happy Hour on Monday's. Check out all their cheap deals below!
Located right next to Cross Keys reserve our venue has been around for over 150 years.

The Cross Keys Hotel has been cleverly designed to offer several smart areas from quiet and secluded to areas that are bright and open. With a warm and friendly atmosphere the bistro offers delicious meals at great value. Including TAB facilities, lounge and a well stocked bar, there is something for everyone at the Cross Keys Hotel.
Specials at Cross Keys Hotel
Monday

Sports Bar Meal

$15.00

Lunch special every day 12-2:30pm only $15

Updated 9 months ago

Monday

Member's Happy Hour

$3.50

Pots of Draught, VB or Boags only $3.59 from 4-6pm weekdays

Updated 9 months ago

Tuesday

Sports Bar Meal

$15.00

Lunch special every day 12-2:30pm only $15

Updated 9 months ago

Tuesday

Member's Happy Hour

$3.50

Pots of Draught, VB or Boags only $3.59 from 4-6pm weekdays

Updated 9 months ago

Wednesday

Sports Bar Meal

$15.00

Lunch special every day 12-2:30pm only $15

Updated 9 months ago

Wednesday

Member's Happy Hour

$3.50

Pots of Draught, VB or Boags only $3.59 from 4-6pm weekdays

Updated 9 months ago

Thursday

Sports Bar Meal

$15.00

Lunch special every day 12-2:30pm only $15

Updated 9 months ago

Thursday

Member's Happy Hour

$3.50

Pots of Draught, VB or Boags only $3.59 from 4-6pm weekdays

Updated 9 months ago

Friday

Sports Bar Meal

$15.00

Lunch special every day 12-2:30pm only $15

Updated 9 months ago

Friday

Member's Happy Hour

$3.50

Pots of Draught, VB or Boags only $3.59 from 4-6pm weekdays

Updated 9 months ago
Other specials nearby today
comments powered by

Disqus