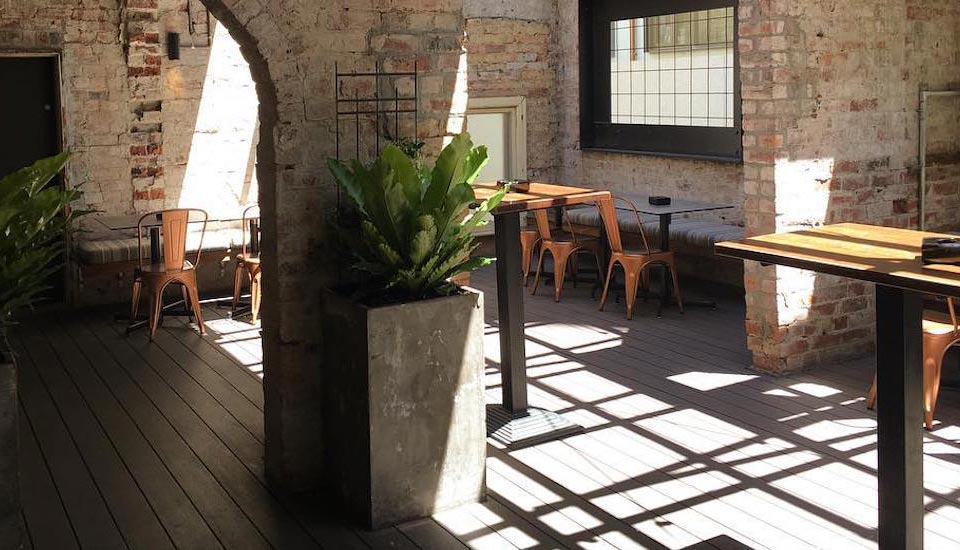 Crafty Squire
127 Russell St,
Melbourne
3000
Website:

Telephone:
Crafty Squire in Melbourne has 14 weekly specials including their Monday Weekly Lunch Special special and also a Weekly Drink Specials on Monday's. Check out all their cheap deals below!
Located at 127 Russell Street in the heart of the CBD, the Crafty Squire is one of Melbourne's best pubs.
Formerly the Portland Hotel, this iconic venue has recently undergone extensive renovations to offer you modern bar, restaurant and function facilities across two levels. But never fear – the Crafty Squire is still home of the famous James Squire Brewhouse, the only working microbrewery in Melbourne's CBD!

Whether you choose to enjoy a mouth-watering pub meal, catch some live sport on our big screen TVs, or hold your next party or event in one of our function spaces, The Crafty Squire is a fine example of a true 'local' pub in Melbourne CBD.
Specials at Crafty Squire
Monday

Weekly Lunch Special

$20.00

Who's hungry? All large plates are $20 or less between 12pm and 3pm Monday - Friday. Every Monday, Tuesday, Wednesday, Thursday, Friday from 12 PM

Updated 9 months ago

Monday

Weekly Drink Specials

$9.00

Monday to Friday - Kick back and enjoy all drinks for just $9 from 4pm to 7pm. Enjoy after work cocktails for only $14 EVERY DAY including Saturday Sunday. Plus reserve a space for 6 or more and get a free Crafty grazing platter.

Updated 9 months ago

Tuesday

Weekly Lunch Special

$20.00

Who's hungry? All large plates are $20 or less between 12pm and 3pm Monday - Friday. Every Monday, Tuesday, Wednesday, Thursday, Friday from 12 PM

Updated 9 months ago

Tuesday

Weekly Drink Specials

$9.00

Monday to Friday - Kick back and enjoy all drinks for just $9 from 4pm to 7pm. Enjoy after work cocktails for only $14 EVERY DAY including Saturday Sunday. Plus reserve a space for 6 or more and get a free Crafty grazing platter.

Updated 9 months ago

Wednesday

Weekly Lunch Special

$20.00

Who's hungry? All large plates are $20 or less between 12pm and 3pm Monday - Friday. Every Monday, Tuesday, Wednesday, Thursday, Friday from 12 PM

Updated 9 months ago

Wednesday

Weekly Drink Specials

$9.00

Monday to Friday - Kick back and enjoy all drinks for just $9 from 4pm to 7pm. Enjoy after work cocktails for only $14 EVERY DAY including Saturday Sunday. Plus reserve a space for 6 or more and get a free Crafty grazing platter.

Updated 9 months ago

Thursday

Weekly Lunch Special

$20.00

Who's hungry? All large plates are $20 or less between 12pm and 3pm Monday - Friday. Every Monday, Tuesday, Wednesday, Thursday, Friday from 12 PM

Updated 9 months ago

Thursday

Weekly Drink Specials

$9.00

Monday to Friday - Kick back and enjoy all drinks for just $9 from 4pm to 7pm. Enjoy after work cocktails for only $14 EVERY DAY including Saturday Sunday. Plus reserve a space for 6 or more and get a free Crafty grazing platter.

Updated 9 months ago

Friday

Weekly Lunch Special

$20.00

Who's hungry? All large plates are $20 or less between 12pm and 3pm Monday - Friday. Every Monday, Tuesday, Wednesday, Thursday, Friday from 12 PM

Updated 9 months ago

Friday

Weekly Drink Specials

$9.00

Monday to Friday - Kick back and enjoy all drinks for just $9 from 4pm to 7pm. Enjoy after work cocktails for only $14 EVERY DAY including Saturday Sunday. Plus reserve a space for 6 or more and get a free Crafty grazing platter.

Updated 9 months ago

Saturday

Weekly Drink Specials

$9.00

Monday to Friday - Kick back and enjoy all drinks for just $9 from 4pm to 7pm. Enjoy after work cocktails for only $14 EVERY DAY including Saturday Sunday. Plus reserve a space for 6 or more and get a free Crafty grazing platter.

Updated 9 months ago

Saturday

Saturday Cocktails

$14.00

Enjoy $14 cocktail from 7 'til close, alongside live music from 7pm, playing sing-alongs and classics.

Updated 9 months ago

Sunday

Weekly Drink Specials

$9.00

Monday to Friday - Kick back and enjoy all drinks for just $9 from 4pm to 7pm. Enjoy after work cocktails for only $14 EVERY DAY including Saturday Sunday. Plus reserve a space for 6 or more and get a free Crafty grazing platter.

Updated 9 months ago

Sunday

Open Mic & Drink Specials

Various

Every Sunday from 7pm until late join us at The Crafty Squire for Open Mic Night. $8 pints, $7 house spirits, $6 shots and $5 house wine whilst enjoying to a great array of acts.

Updated 9 months ago
Other specials nearby today
comments powered by

Disqus