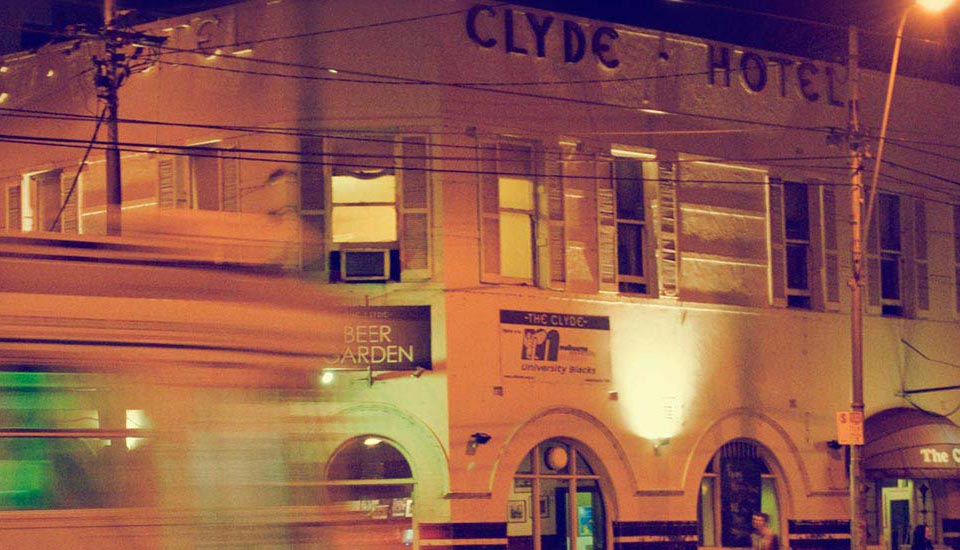 The Clyde Hotel
385 Cardigan Street,
Carlton
3053
Website:

Telephone:
The Clyde Hotel in Carlton has 12 weekly specials including their Monday Happy Hour special and also a Burgers on Monday's. Check out all their cheap deals below!
The Clyde Hotel is an iconic pub in the heart of Carlton. Standing tall on the corner of Cardigan and Elgin Streets, it is a stones throw from Melbourne University and the bustle of the Lygon Street district.

The Hotel was revamped and renovated in early 2013 and now boasts an expansive new front bar which overlooks the streetscape of Carlton. The Saloon Bar and adjacent main bar are perfect for a quiet drink and or meal if you are feeling peckish.

Last but certainly not least, the Clyde Beer Garden provides a fantastic al fresco dining area under the stars or our retractable roof for the more in climate weather. You can get in contact with our staff about booking a space for your next private function.
Specials at The Clyde Hotel
Monday

Happy Hour

Various

$7 pints Boags Draft, $5 glass Hoggies Red or White

Updated 10 months ago

Monday

Burgers

$12.00

$12 burgers on Monday

Updated 10 months ago

Tuesday

Parma Night

$13.00

Freshly crumbed chicken breast topped with Napoli sauce, ham and melted cheese served with chips and salad.

Updated 10 months ago

Tuesday

Happy Hour

Various

$7 pints Boags Draft, $5 glass Hoggies Red or White

Updated 10 months ago

Wednesday

Steak Night

$15.00

Cooked medium rare served with chips and salad and a choice of mushroom, pepper or gravy sauce

Updated 10 months ago

Wednesday

Happy Hour

Various

$7 pints Boags Draft, $5 glass Hoggies Red or White

Updated 10 months ago

Thursday

Happy Hour

Various

$7 pints Boags Draft, $5 glass Hoggies Red or White

Updated 10 months ago

Thursday

Pie of the Day

$13.00

$13 pie of the day

Updated 10 months ago

Friday

Fish & Chips & Pot

$10.00

Whiting fillets served with a bucket of chips

Updated 10 months ago

Friday

Happy Hour

Various

$7 pints Boags Draft, $5 glass Hoggies Red or White

Updated 10 months ago

Saturday

Happy Hour

Various

$7 pints Boags Draft, $5 glass Hoggies Red or White

Updated 10 months ago

Sunday

Happy Hour

Various

$7 pints Boags Draft, $5 glass Hoggies Red or White

Updated 10 months ago
Other specials nearby today
comments powered by

Disqus