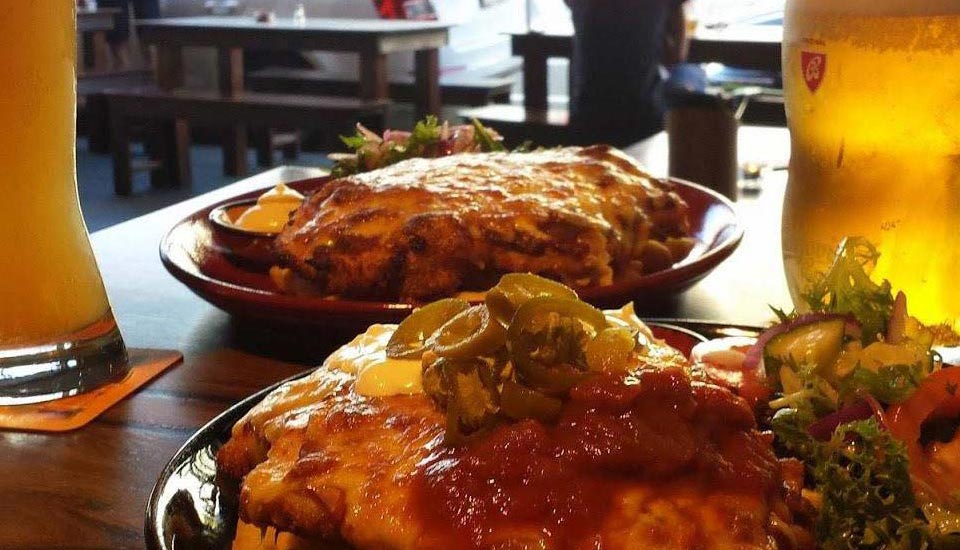 Buddha's Belly
75A Chapel Street,
Windsor
3161
Website:

Telephone:
Buddha's Belly in Windsor has 14 weekly specials including their Monday Buddha's Happy Hour 4pm-7pm special and also a Burger Night on Tuesday's. Check out all their cheap deals below!
Buddha's Belly is a funky Restaurant Bar Cafe on Chapel Street. Located at the hip end of Windsor.
This trendy hangout is open for Breakfast, Lunch and Dinner, with live music on the weekends.
Catering for Vegetarian and Vegan diners, as well as meat lovers, Buddhas Belly takes inspirations
from around the world to help create a truly amazing dining experience.

Since changing management of Buddha's Belly just four years ago, it has earned a strong reputation and loyal following for its great food, decadent cocktails and relaxed ambiance.
Whether its winding down after work, or for a relaxed brunch on the weekend, Buddha's Belly offers a relaxed neighbourhood drinking and dining experience.

We look forward to serving you soon.
Specials at Buddha's Belly
Monday

Buddha's Happy Hour 4pm-7pm

Various

Happy Hour daily 4pm - 7pm PINTS from $6 BOTTLED BEER & CIDER $6 BASIC SPIRITS $5 EVERY WINE by the glass $7

Updated 1 year ago - may be way outdated

Tuesday

Burger Night

$15.00

ALL BURGERS $15 from 5PM-10PM

Updated 11 months ago

Tuesday

Buddha's Happy Hour 4pm-7pm

Various

Happy Hour daily 4pm - 7pm PINTS from $6 BOTTLED BEER & CIDER $6 BASIC SPIRITS $5 EVERY WINE by the glass $7

Updated 1 year ago - may be way outdated

Wednesday

Steak Night

$15.00

Steak Night with chips, salad and choice of sauce 5PM-10PM RUMP for $15, PORTERHOUSE for $17.50

Updated 11 months ago

Wednesday

Buddha's Happy Hour 4pm-7pm

Various

Happy Hour daily 4pm - 7pm PINTS from $6 BOTTLED BEER & CIDER $6 BASIC SPIRITS $5 EVERY WINE by the glass $7

Updated 1 year ago - may be way outdated

Thursday

Parma-geDDon

$16.00

Parma-geDDon, 9 variations all served with chips and salad $16 5PM-10PM

Updated 11 months ago

Thursday

Buddha's Happy Hour 4pm-7pm

Various

Happy Hour daily 4pm - 7pm PINTS from $6 BOTTLED BEER & CIDER $6 BASIC SPIRITS $5 EVERY WINE by the glass $7

Updated 1 year ago - may be way outdated

Thursday

One Dollar Wings

$1.00

$1 wings every night from 10pm - Late (only available with alcohol beverage purchase)

Updated 11 months ago

Friday

Buddha's Happy Hour 4pm-7pm

Various

Happy Hour daily 4pm - 7pm PINTS from $6 BOTTLED BEER & CIDER $6 BASIC SPIRITS $5 EVERY WINE by the glass $7

Updated 1 year ago - may be way outdated

Friday

One Dollar Wings

$1.00

$1 wings every night from 10pm - Late (only available with alcohol beverage purchase)

Updated 11 months ago

Saturday

Buddha's Happy Hour 4pm-7pm

Various

Happy Hour daily 4pm - 7pm PINTS from $6 BOTTLED BEER & CIDER $6 BASIC SPIRITS $5 EVERY WINE by the glass $7

Updated 1 year ago - may be way outdated

Saturday

Espresso Martinis

$10.00

$10 Espresso Martinis 8-10pm

Updated 11 months ago

Saturday

One Dollar Wings

$1.00

$1 wings every night from 10pm - Late (only available with alcohol beverage purchase)

Updated 11 months ago

Sunday

Buddha's Happy Hour 4pm-7pm

Various

Happy Hour daily 4pm - 7pm PINTS from $6 BOTTLED BEER & CIDER $6 BASIC SPIRITS $5 EVERY WINE by the glass $7

Updated 1 year ago - may be way outdated
Other specials nearby today
comments powered by

Disqus