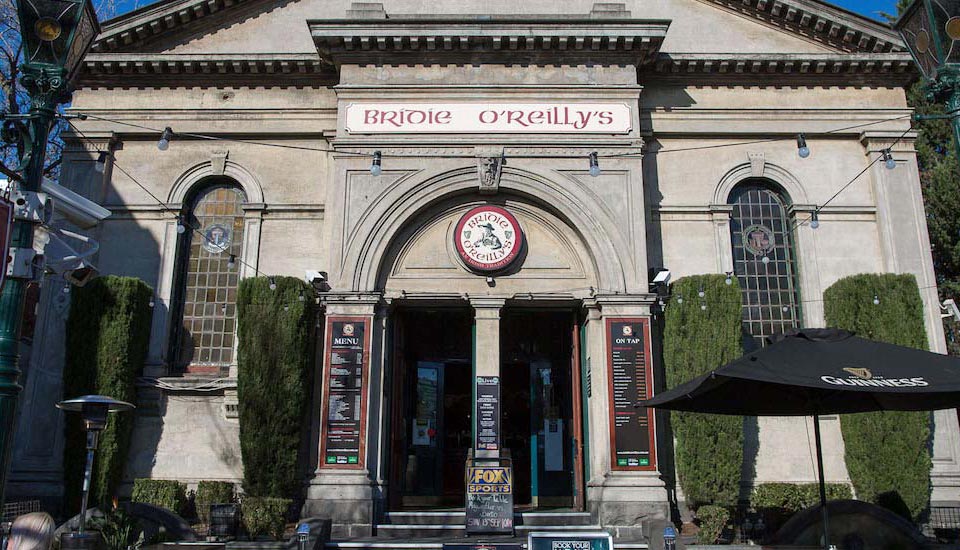 Bridie O'Reilly's Chapel Street
462 Chapel Street,
South Yarra
3141
Website:

Telephone:
Bridie O'Reilly's Chapel Street in South Yarra has 12 weekly specials including their Monday Sliders and Cider special and also a Pie & Guiness Lunch on Monday's. Check out all their cheap deals below!
Bridie O'Reilly's is Melbourne's original Irish Pub. Bridie's prides itself on great customer service, a wide range of beers, traditional Irish meals and live entertainment in a cosy and inviting atmosphere.

Bridie's offers food and drink specials everyday of the week. The weekend also sees live bands & live sports action, with both Fox Sports and Setanta for our world football fans.
And don't forget, our function space can be booked for your next party, conference or business lunch!

So, what are you waiting for?

Come on over, grab a pint of Guinness from one of our friendly staff, and get mixed up in the atmosphere that is Bridie O'Reilly's.
Specials at Bridie O'Reilly's Chapel Street
Monday

Sliders and Cider

$15.00

3 delicious sliders and a pint of James Squire apple cider served all day Monday

Updated 11 months ago

Monday

Pie & Guiness Lunch

$20.00

Beef & Guiness pie served 12-6 weekdays served with a pint of Guiness

Updated 10 months ago

Tuesday

Parma and Pot

$16.00

Parma & Pot with beer, wine or soft drink $16 from 6pm - 9pm

Updated 11 months ago

Tuesday

Pie & Guiness Lunch

$20.00

Beef & Guiness pie served 12-6 weekdays served with a pint of Guiness

Updated 10 months ago

Wednesday

Pizza

$12.00

All pizzas from the menu served all day for only $12 includes beer, wine or soft drink

Updated 10 months ago

Wednesday

Pie & Guiness Lunch

$20.00

Beef & Guiness pie served 12-6 weekdays served with a pint of Guiness

Updated 10 months ago

Thursday

Steak Night

$18.00

Rump Steak with beer, wine or soft drink $18 from 6pm - 9pm

Updated 11 months ago

Thursday

Pie & Guiness Lunch

$20.00

Beef & Guiness pie served 12-6 weekdays served with a pint of Guiness

Updated 10 months ago

Friday

Nachos & Bucket Coronas

$30.00

Nachos and a bucket of Coronas Friday and Sundays only $30

Updated 10 months ago

Friday

Pie & Guiness Lunch

$20.00

Beef & Guiness pie served 12-6 weekdays served with a pint of Guiness

Updated 10 months ago

Sunday

Monster Roast

$25.00

Monster Roast Sunday - choice of two roasts. With beer, wine or soft drink $20 served all day!

Updated 11 months ago

Sunday

Nachos & Bucket Coronas

$30.00

Nachos and a bucket of Coronas Friday and Sundays only $30

Updated 10 months ago
Other specials nearby today
comments powered by

Disqus