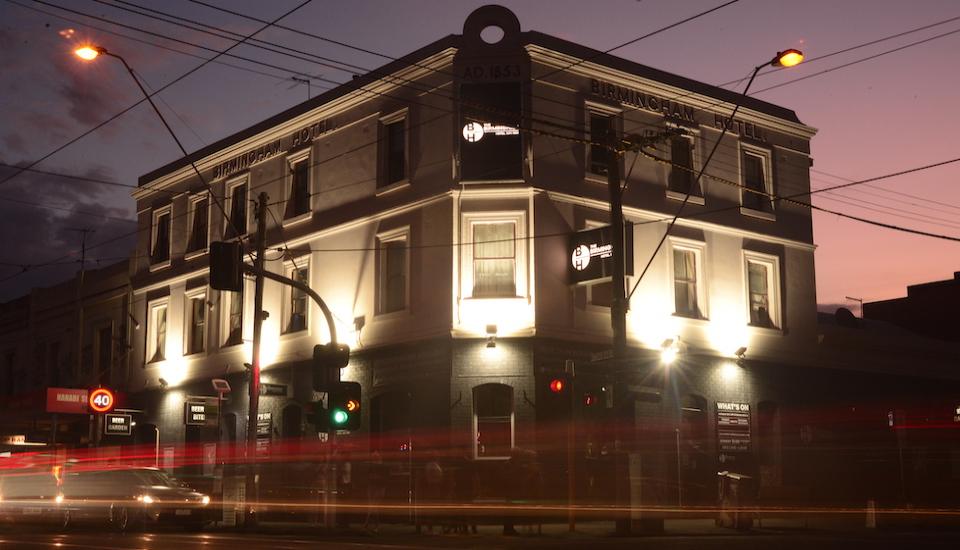 Birmingham Hotel
333 Smith St,
Collingwood
3066
Website:

Telephone:
Birmingham Hotel in Collingwood has 13 weekly specials including their Monday 25% off dinner special and also a Express Lunch on Monday's. Check out all their cheap deals below!
Workshop of the world is Smith Street's best new pub on the block!

We have an excellent selection of local craft beers on tap. Like something that we don't have? Let us know and we will check it out.

We showcase all THE BIG GAMES on the big screens, live and loud as it happens!

You can head outside and soak up the atmosphere on either the lower or upper deck of our beer garden.

Or if you just want a pub to be a pub, we have that too. Simply pull up a stool and chat away to our locals and the staff. They have some pretty good jokes! Something for everyone down at The Birmingham!

Come and join us in our workshop and get lost in all the old school inventions and help us open our doors and showcase our industry, innovation and invention to you.

Specials at Birmingham Hotel
Monday

25% off dinner

Various

25% off evening meals

Updated 10 months ago

Monday

Express Lunch

$12.00

$12 Express Lunch week days

Updated 9 months ago

Monday

Happy Hour

Various

3pm - 7pm: $3.50 pots and $7 pints. $14 jugs. $5 house wins. 50c spicy wings 5pm - 7pm.

Updated 9 months ago

Tuesday

Parma

$12.00

From 5pm it's $12 parma's at the Birmy

Updated 10 months ago

Tuesday

Express Lunch

$12.00

$12 Express Lunch week days

Updated 9 months ago

Tuesday

Happy Hour

Various

3pm - 7pm: $3.50 pots and $7 pints. $14 jugs. $5 house wins. 50c spicy wings 5pm - 7pm.

Updated 9 months ago

Wednesday

Steak Night

$12.00

From 5pm, our $12 steak special Wednesday is still going strong!

Updated 10 months ago

Wednesday

Express Lunch

$12.00

$12 Express Lunch week days

Updated 9 months ago

Wednesday

Happy Hour

Various

3pm - 7pm: $3.50 pots and $7 pints. $14 jugs. $5 house wins. 50c spicy wings 5pm - 7pm.

Updated 9 months ago

Thursday

Express Lunch

$12.00

$12 Express Lunch week days

Updated 9 months ago

Thursday

Happy Hour

Various

3pm - 7pm: $3.50 pots and $7 pints. $14 jugs. $5 house wins. 50c spicy wings 5pm - 7pm.

Updated 9 months ago

Friday

Express Lunch

$12.00

$12 Express Lunch week days

Updated 9 months ago

Friday

Happy Hour

Various

3pm - 7pm: $3.50 pots and $7 pints. $14 jugs. $5 house wins. 50c spicy wings 5pm - 7pm.

Updated 9 months ago
Other specials nearby today
comments powered by

Disqus