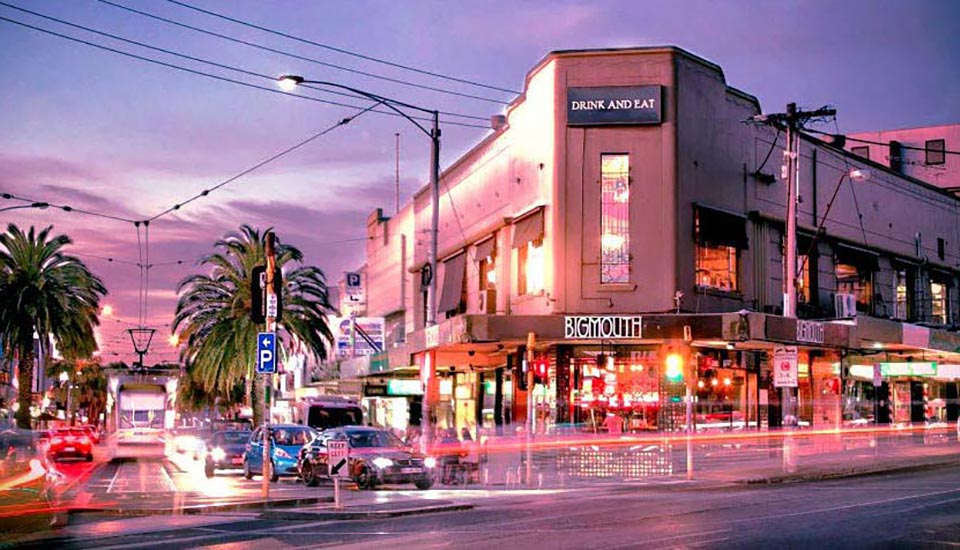 Big Mouth
168 Acland St,
St Kilda
3182
Website:

Telephone:
Big Mouth in St Kilda has 7 weekly specials including their Monday Monday Nights special and also a Chilli Bowls on Tuesday's. Check out all their cheap deals below!
We are bar, kitchen, restaurant cafe and late night bar/club. Our customers come to us for big nights, hangover cures, a glass of vino, beers, a romantic table for first date or a function for 50.

We're famous for our St Kilda Hash, all day breakfast, great Djs, Porterhouse steaks and Saturday nights. We are a lot of things to a lot of people. Come in and have us your way.

We like to say our food sits somewhere between well to do pub meets bistro kitchen. Our food is not complicated but approached with love.

We make most everything here, we offer handsome serves and consider giving great value essential to what we do.
Specials at Big Mouth
Monday

Monday Nights

Various

$15 Fajitas, $10 Margaritas Happy Hour 4-7PM

Updated 11 months ago

Tuesday

Chilli Bowls

$15.00

$15 Chilli Bowls - Happy Hour 4-7PM

Updated 11 months ago

Wednesday

Burgers and Wings

$15.00

$15 Burgers $1 Wings. $6 Two Birds. Happy Hour 4-7PM - Ground Floor: Open Mic

Updated 11 months ago

Thursday

Bloody Good Parmas

$15.00

$15 Bloody Good Parmas & Varmas - $10 Margaritas. Happy Hour 4-7PM

Updated 11 months ago

Friday

Ribs & Cocktails

Various

$10 Cocktails $20 Ribs. Happy Hour 4-7PM

Updated 11 months ago

Saturday

Ribs & Cocktails

Various

$10 Cocktails $20 Ribs

Updated 11 months ago

Sunday

Tiki Sundays

Various

$12 Cocktails menu changes weekly $5 Share Plates

Updated 11 months ago
Other specials nearby today
comments powered by

Disqus