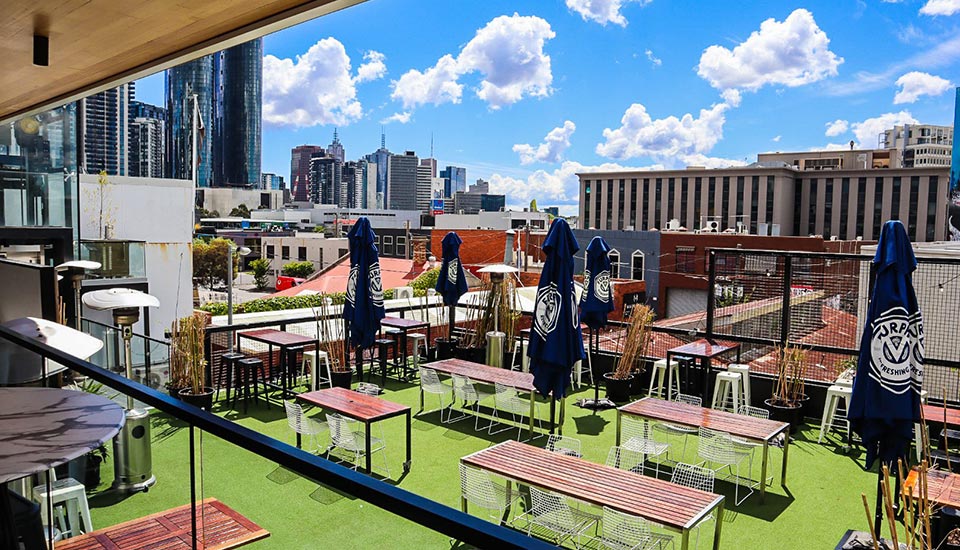 Bells Hotel
157 Moray St,
South Melbourne
3205
Website:

Telephone:
Bells Hotel in South Melbourne has 7 weekly specials including their Monday Express Lunch special and also a Eye Fillet Steak on Monday's. Check out all their cheap deals below!
For 50 to 150 people The Bridge Room is a private bar with its own entrance opening out to alfresco dining. Annexing the ante room and the Alfresco dining the two rooms combined expands the capacity to up to 150 people.

The Bridge Room connects to the Parlour bar ambience while maintaining its cosy feel. This space is ideal for casual functions, afterwork drinks, meetings or private dining.

Our Sports bar opens out to street seating so you never need to make a choice between the action or the evening air. Sport, friends, refreshments and summertime breeze – there's nothing quite like what we have here at Bells Hotel.
Specials at Bells Hotel
Monday

Express Lunch

$10.00

Choose from 3 dishes for only $10 11:30am - 3pm: Soft shell tacos (Three tacos served with slaw and salsa); or Crispy Fried Chicken (Crispy fried chicken with coleslaw); or Seasonal Salad (Leafy greens, tomato and cucumber)

Updated 9 months ago

Monday

Eye Fillet Steak

$15.00

250gm Eye fillet steak, smash potato, green beans & jus

Updated 9 months ago

Tuesday

Express Lunch

$10.00

Choose from 3 dishes for only $10 11:30am - 3pm: Soft shell tacos (Three tacos served with slaw and salsa); or Crispy Fried Chicken (Crispy fried chicken with coleslaw); or Seasonal Salad (Leafy greens, tomato and cucumber)

Updated 9 months ago

Tuesday

Eye Fillet Steak

$15.00

250gm Eye fillet steak, smash potato, green beans & jus

Updated 9 months ago

Wednesday

Express Lunch

$10.00

Choose from 3 dishes for only $10 11:30am - 3pm: Soft shell tacos (Three tacos served with slaw and salsa); or Crispy Fried Chicken (Crispy fried chicken with coleslaw); or Seasonal Salad (Leafy greens, tomato and cucumber)

Updated 9 months ago

Thursday

Express Lunch

$10.00

Choose from 3 dishes for only $10 11:30am - 3pm: Soft shell tacos (Three tacos served with slaw and salsa); or Crispy Fried Chicken (Crispy fried chicken with coleslaw); or Seasonal Salad (Leafy greens, tomato and cucumber)

Updated 9 months ago

Friday

Parma & Pint

$19.00

Furphy Friday - Pint & Parma only $19

Updated 9 months ago
Other specials nearby today
comments powered by

Disqus